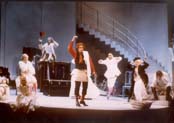 Photo: Erwin Doring
Strauss, Richard
Die schweigsame Frau
(The Silent Woman)
(1932-35)
Comic opera in three acts
Duration: 130 minutes
Music Text
Libretto by Stefan Zweig after Ben Jonson's 'Epicoene' (G,E,I)
Scoring
Major roles: colS,A,lyrT,lyrB,B; minor roles: colS,M,Bar,2B; chorus
3(III=picc).2.corA.3.bcl.3(III=dbn)-4.3.3.1-timp.perc(3-4):SD/BD/
cyms/tam-t/tgl/tamb/ratchet/cast/xyl/bells/glsp-cel-harp-org-hpd-
bagpipes-strings(14.12.8.8.6)
Abbreviations (PDF)
Publisher
Boosey & Hawkes
Territory
This work is available from Boosey & Hawkes for all countries except Germany, Italy, Portugal, Danzig, and the former territories of the USSR.
World Premiere
6/24/1935
Sächsisches Staatstheater Opernhaus, Dresden
Conductor: Karl Böhm
Company: Dresden State Opera
Roles
| | |
| --- | --- |
| SIR MOROSUS | Bass |
| HOUSEKEEPER | Contralto |
| BARBER | Baritone |
| HENRY | Tenor |
| AMINTA, his wife | Soprano |
| ISOTTA | Soprano |
| CARLOTTA | Mezzo Soprano |
| MORBIO | Baritone |
| VANUZZI | Bass |
| FARFALLO | Bass |
| Actors and neighbours | chorus |
Time and Place
A room in Sir Morosus's house in a London suburb, about 1780
Synopsis
A rich, retired admiral, Sir John Morosus, cannot bear noise of any kind, particularly his garrulous housekeeper, so his barber suggests she should be replaced by a quiet young wife. Sir John argues that a silent woman cannot exist and that he is too old to marry. His long-lost nephew Henry appears in pursuit of an inheritance and Sir John believes he has found alternative companionship. However, Henry is married to Aminta, a member of an operatic troupe, and his uncle has no time for such noisy activity. He dismisses the troupe, disinherits Henry and demands the Barber finds a silent woman for the next day. The Barber and Henry hatch a plan and present Sir John with three possible brides (the opera troupe in disguise). Sir John rejects the clumsy peasant (Carlotta) and the bluestocking (Isotta) but falls in love with the quietest called Timidia (Aminta). But as soon as the marriage is sealed her raucous true nature emerges - and she wants to buy a pet parrot. Henry promises to arrange an annulment of the marriage, but Timidia will not accept any bribes as she wants to remain Lady Morosus. Sir John's divorce petition fails but at his point of total despair the deception is revealed. His initial fury turns to laughter and the troupe salute him. Aminta offers daughterly love and Sir John is content to accept Henry as his heir: "A rare delight it is to find a silent, beautiful girl, but it is more delightful when she belongs to another man".
Subjects