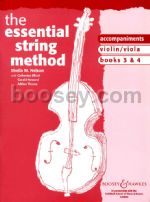 Nelson, Sheila - Essential String Method 3/4 (Piano Accompaniment Upper Strings)
Instrumentation: Piano Accompaniment (Upper Strings)
ISMN 9790060105166
Publisher Boosey & Hawkes (London)
Availability: Stock Title
Level of Difficulty: Easy
Sheila Nelson's award winning teaching approach available in a clearly structured progressive method covering all stringed instruments. The Essential String Method develops the pupil as a musician as well as an instrumentalist right from the start through an integrated programme of games, activities, songs and pieces. Developed by Sheila Nelson (violin), Cathy Elliott (Double Bass), Gerald Howard (Cello) and Adrian Thorne (musicianship) in collaboration with The Guildhall School of Music & Drama. A "Millennium Product" Winner.
Contents

All in a Garden Green (Nelson)
All through the night (Nelson)
Apple Pie (Nelson)
Autumn fr The 4 Seasons (Vivaldi arr Nelson)
Berceuse (Weber arr Nelson)
Boatman (Nelson)
Camptown Races (Foster arr Nelson)
Carnival Waltz (Elliott)
Conversation Piece (JS Bach arr Nelson)
Dance for a Party (Haydn arr Nelson)
Dr Johnson's Jig (Nelson)
Ecossaise (Beethoven arr Nelson)
Farmer's Fancy (Nelson)
Fill Every Glass (Nelson)
Fly like a Bird (Nelson)
High Jump (Nelson)
I am a fine musician (Nelson)
I have a Bonnet (Nelson)
Kumba Yah! (Nelson)
Lament (Thorne)
London Bridge Variations (Nelson)
M. Duport's Minuet (Mozart arr Nelson)
March (Handel arr Nelson)
Marching Scale (Nelson)
Michael Finnegan (Nelson)
Microwaltz (Nelson)
Midstream (Nelson)
Minuet (Telemann arr Nelson)
Moto Perpetuo (Nelson)
Mrs MacWalter (Nelson)
Mrs Merryweather (Nelson)
New Waltz Variations (Nelson)
Old French Song (Tchaikovsky arr Nelson)
Old MacDonald (Nelson)
Pease Pudding Hot (Nelson)
Peggy Morton (O'Carolan arr Nelson)
Peripatetic Polka (Nelson)
Poor Old John (Nelson)
Reeling Around (Nelson)
Row the Boat (Nelson)
Spring Time Round (Schubert arr Nelson)
Square Scale (Nelson)
Swinging Scale (Nelson)
The Busybody (Nelson)
The Last Word (Nelson)
This Old Man (Nelson)
Turkey in the Straw (Nelson)
Turn the Glasses Over (Nelson)
Two German Dances (Nelson)
Two Minuets (Mozart arr Nelson)
Upon Paul's Steeple (Nelson)
---
There are currently no reviews for this product.
Tell us what you think