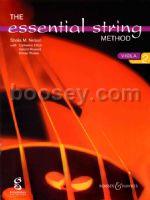 Nelson, Sheila - Essential String Method 2 (Viola)
Instrumentation: Viola
ISMN 9790060105081
ISBN 9780851625355
Publisher Boosey & Hawkes (London)
Availability: Stock Title
Level of Difficulty: Easy
Sheila Nelson's award winning teaching approach available in a clearly structured progressive method covering all stringed instruments. The Essential String Method develops the pupil as a musician as well as an instrumentalist right from the start through an integrated programme of games, activities, songs and pieces. Developed by Sheila Nelson (violin), Cathy Elliott (Double Bass), Gerald Howard (Cello) and Adrian Thorne (musicianship).
Contents

Baa, Baa, Black Sheep
Busy Bees
Come to the Zoo
Cowboy Chorus
Cuckoo Round
Dance the Night Away
Donald, Michael and Solomon
Echo Duet
Fed Up
Fish in the Sea
French Folk Song
Girls and Boys Come Out to Play
Harmonics aren't Hard!
Have a Good Time
Hey There!
Hickory Dickory Dock
Hide and Seek
Hocus Pocus
Hola
I am a River
Ice Dance
Let's Have a Holiday
Lullaby
Macaroni Cheese
Magic Polka
Marmaduke Mackenzie
Marzipan March
Me Too!
Moravian Carol
Old MacDonald
Pie in the Sky
Shortnin' Bread
Sun and Showers Duet
Swing Me
Tree Swing
Twinkle Duet
Who's That?
---
There are currently no reviews for this product.
Tell us what you think