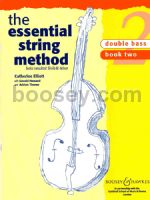 Nelson, Sheila - Essential String Method 2 (Double Bass)
Instrumentation: Double Bass
ISMN 9790060105180
ISBN 9780851625398
Publisher Boosey & Hawkes (London)
Availability: Stock Title
Level of Difficulty: Easy
Sheila Nelson's award winning teaching approach available in a clearly structured progressive method covering all stringed instruments. The Essential String Method develops the pupil as a musician as well as an instrumentalist right from the start through an integrated programme of games, activities, songs and pieces. Developed by Sheila Nelson (violin), Cathy Elliott (Double Bass), Gerald Howard (Cello) and Adrian Thorne (musicianship).
Contents

Cowboy Chorus (Nelson)
Cuckoo Round (Elliott)
Dancing Partners (Elliott)
Echo Duet (Nelson)
Fed Up (Nelson)
Frere Jacques
Goosey Goosey Gander (Elliott)
Have a Good Time (Nelson)
Hurricane Bill (Elliott)
I am a River (Nelson)
Kangaroo Dance (Elliott)
Lavender's Blue (Elliott)
Let's Have a Holiday (Elliott)
Magic Polka (Nelson)
March of the Alligators (Elliott)
Marching Scale (Nelson)
Mix-and-Match (Elliott)
Moravian Carol (Nelson)
Old MacDonald (Nelson)
On the Beat (Elliott)
Rondo Duo (Elliott)
Seesaw (Elliott)
Sombreros (Elliott)
Swan Song (Elliott)
There's a hole in my Bucket (Elliott)
Ticking Clocks (Elliott)
Twinkle Duet (Elliott)
Two Little Blackbirds (Elliott)
Waltzing Scale (York)
---
There are currently no reviews for this product.
Tell us what you think