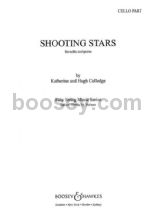 Colledge, Katherine & Hugh - Shooting Stars
Instrumentation: Cello
ISMN 9790060103483
ISBN 9780851622965
Publisher Boosey & Hawkes (London)
Availability: Stock Title
Level of Difficulty: Easy
Easy string music by Kathy & Hugh Colledge. 21 pieces for intermediate players following on from Fast Forward. Introduces more advanced elements of technique including new finger patterns, chromaticism, triplets, syncopation and some new bowings.





Husband and wife team Kathy (b.1952) and Hugh (b.1945) Colledge both worked as instrumental music teachers in East London before moving to Norfolk in 1995. Their compositions and arrangements are a joint effort, with Kathy being the string specialist and Hugh writing the piano accompaniments.
Contents

Alla marcia
By candlelight
Carefree
Chinatown
Coconuts and mangoes
Cossacks
Five-a-side
Head-in-the-clouds
Look lively!
Miles Away
Morris dancers
Moto perpetuo
Rustic Dance
Stiffkey blues
Tarantella
The carol singers
The misty isle
The old oak tree
Thingummyjig!
Where the heather grows
Winter wind
---
There are currently no reviews for this product.
Tell us what you think