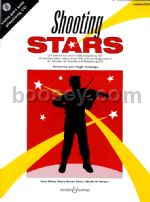 Colledge, Katherine & Hugh - Shooting Stars
Instrumentation: Violin, CD
ISMN 9790060114113
Publisher Boosey & Hawkes (London)
Availability: Stock Title
Level of Difficulty: Easy
Waggon Wheels and Stepping Stones have long been the repertoire choice of string teachers. The violin books from this classic series are now being issued with accompanying CD backings at a new great value price!
Contents

Alla marcia
By candlelight
Cakewalk
Carefree
Chinatown
Coconuts & mangoes
Cossacks
Far from home
Five-a-side
Head-in-the-clouds
Look lively!
Morris Dancers
Moto perpetuo
Rustic Dance
Stiffkey Blues
The carol singers
The Misty Isle
The Old Oak Tree
Thingummyjig!
Where the heather grows
Winter wind
---
Press Reviews
"These are all very attractive, melodic pieces in various styles: jazz, calpyso, blues and Chinese as well as a march, a jig and slow expressive pieces. Altogether, a most enjoyable collection likely to appeal to all students, broadening their experience both technically and musically"
European String Teachers Association
Customer Reviews
"This book is really good for anybody. It makes you really enjoy playing the violin. I truly recommend it."
Tell us what you think