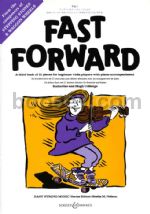 Colledge, Katherine & Hugh - Fast Forward
Instrumentation: Viola, Piano
ISMN 9790060090813
ISBN 9780851622897
Publisher Boosey & Hawkes (London)
Availability: Stock Title
Level of Difficulty: Easy
Easy string music by Kathy & Hugh Colledge. 26 pieces following on from Waggon Wheels. 0-12-3-4 and 0-1-2-34 finger patterns. New rhythms and compound time are introduced, along with a wider range of expression marks and some varied bowing.





Husband and wife team Kathy (b.1952) and Hugh (b.1945) Colledge both worked as instrumental music teachers in East London before moving to Norfolk in 1995. Their compositions and arrangements are a joint effort, with Kathy being the string specialist and Hugh writing the piano accompaniments.
Contents

At Harvest Time
Boogie-Woogie
Clever Clogs!
Drifting
Fast Forward
Hallowe'en
Hornpipe
Hustle, bustle
Lazy-bones
Once Upon a Time
Polly's Polka
Singapore Sunset
Snake Charmer
Something or Other!
Sweet Dreams
The Ceilidh
Weeping Willow
What's the Time?
Windmills
Winter's Night
Wondering
---
There are currently no reviews for this product.
Tell us what you think