The New Urtext Edition of Bartók's Choral Works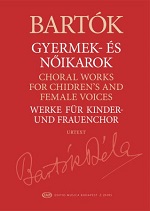 Based on the Béla Bartók Complete Critical Edition, volumes includes complete choral works for children's and female voices, male voices and mixed voices. A three-volume slipcase is also available.
The editions are complete with an informative preface (in Hungarian, English, and German) and detailed Editorial Comments (in Hungarian and English). The Comments give an overview of the textual, folk-music, and compositional sources, and provide detailed information on the performance practice of Bartók's choral works. The editions have been printed on high-quality and environmentally-friendly paper.