The Latest Piano Publications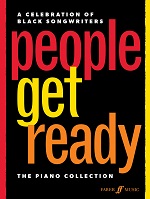 Recent highlights include new piano collections from Faber, People Get Ready and Piano in Black and White, Chopin's Trois Nouvelles Études is now available in a new critical edition.
Education releases feature new editions to the bestselling Improve your scales! series for pianists at grades initial-3, popular songbooks include easy piano volumes for Hamilton and SIX: The Musical and The Mel Brooks Songbook with further repertoire collections featuring the 40 Most Streamed Disney Songs and The Big Band Era.