The Latest Piano Publications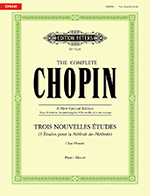 Recent highlights include Chopin's Trois Nouvelles Études in a new critical edition, Poulenc's Valse, Jazz Piano for Kids and the PianoTrainer Scales Workbook.
Education releases feature new editions to the bestselling Improve your scales! series for pianists at grades initial-3, popular songbooks include easy piano volumes for Hamilton and SIX: The Musical and The Mel Brooks Songbook with further repertoire collections featuring the 40 Most Streamed Disney Songs and The Big Band Era.