Save 15% on The Boosey & Hawkes Opera Anthology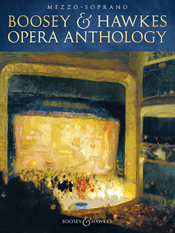 This landmark publication collects arias and role excerpts from operas by John Adams, Benjamin Britten, Carlisle Floyd, Richard Strauss, and many other composers published by Boosey & Hawkes.
Boosey & Hawkes has been one of the leading publishers of opera for most of the last 100 years. The international constitution of the company, particularly with publishing in London and New York, has mined a vast amount of important British and American operatic literature, as well as the operas of Richard Strauss, Igor Stravinsky, Sergei Rachmaninoff and Sergei Prokofieff. From this rich assortment of possibilities, practical choices have been made for this set of anthologies, which we hope will suit the needs of singers around the world.
Many of the selections have never been published outside the complete vocal score of an opera, making the Boosey & Hawkes Opera Anthology a uniquely valuable source. Some of this literature is well known around the world. But among the contents are many wonderful and intriguing pieces which are less often encountered. Besides opera auditions, a majority of the arias are rich material for recitals or concerts.