Ralph Vaughan Williams: 'The Future' Scores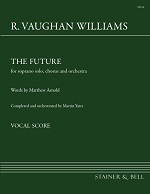 Boldly reimagined and completed by Martin Yates, The Future, a substantial non finito draft of a major choral setting of words by Matthew Arnold, dates from 1908.
The Future is around 35 minutes' duration, for solo soprano, chorus and orchestra, and it will without question be seen as an essential link in the evolution of VW's embracing universal vision of humanity, expressed uniquely for all time in A Sea Symphony.
Vocal and study scores have now been published by Stainer & Bell.