New Urtext & Study Scores from Henle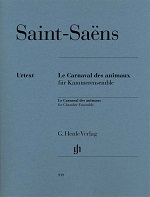 Carnival of The Animals from Saint-Saëns is published for Chamber Ensemble, other highlights include Dvorák's Piano Trio and Haydn's Little Early Sonatas for piano.
New study scores include Haydn's Sinfonias in B flat major Hob. I:102 & I:103, Carnival of The Animals and Alexander Zemlinsky's String Quartet no. 2 op. 15 op. 15.