New Elena Kats-Chernin Digital Downloads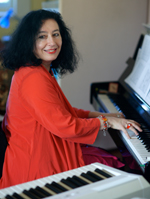 One of Australia's leading composers, Kats-Chernin's music often combines chiseled rhythmic pulsation with a bittersweet melodic/harmonic language.
A wide selection of repertoire has just been made available for instant digital download, including Joyce's Mob (String Quartet No.1) Kwong Song and Second Door On The Left arranged for string quartet and several of her best-known works arranged for instrumental solo and piano accompaniment including Russian Rag, Birthday Rag, Faded Curtains and Lullaby for Nick. Solo instrumental works include Reflections for piano solo and Wild Rice and Patina, both for solo cello.