New Choral Music from Christopher Tin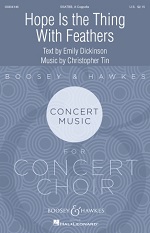 Christopher Tin is a two-time Grammy-winning composer.
New releases include Hope Is the Thing With Feathers, The Saddest Noise, Wild Swans and All That Could Never Be Said.
His music has been performed and premiered in many of the world's most prestigious venues - Carnegie Hall, Lincoln Center, and the United Nations - and by ensembles diverse as the Royal Philharmonic Orchestra, Metropole Orkest, and US Air Force Band. His song Baba Yetu, originally written for the video game Civilization IV, holds the distinction of being the first piece of music written for a video game ever to win a Grammy Award.