15% off Christopher Norton's Microjazz for Piano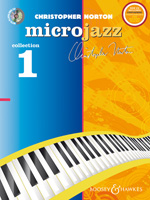 Microjazz is the world famous series of pieces based on classical technique yet using popular contemporary styles such as jazz, blues, rock 'n' roll and funk.
Microjazz helps you develop musicianship and technique through the familiar sounds and styles of popular music. It is this unique combination of modern genres with traditional technique that has made Microjazz an international success with teachers and players, and one of the most widely-used educational series ever published.
Christopher Norton is a composer, producer, arranger and educationalist. He is also the composer of the Big Beats series, and The Easiest Way to Improvise.
"It is, of course, testimony to the brilliance of Norton that it is now unimaginable to have a festival competition without a Norton piece in it." -Piano magazine
For more information on Christopher Norton, plus a complete list of his available publications, click here