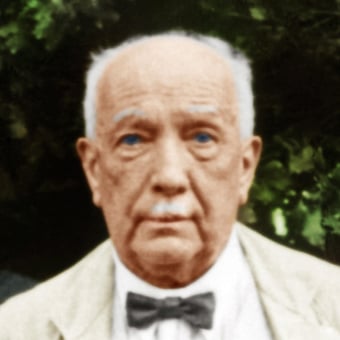 Richard Strauss
1864 - 1949
Richard Strauss was a leading post-Romantic German composer - his tone poems in the 1890s marked him as a radical successor to Wagner and Liszt. His musical style, trusting utterly to tonality, combines Wagnerian richness with Mozartian expression in melody; his orchestration demonstrates dramatic instinct and great virtuosity, with chamber-like scoring; and his output includes some of the greatest-ever writing for the female voice.

An excellent story-teller, the huge successes of _Salome_, _Elektra_ and _Der Rosenkavalier_ established him as one of the most important living composers, and he created many of the most widely-performed 20th century operas, including works ranging from the comic lightness of _Ariadne auf Naxos_ to the complex psychology of _Die Frau ohne Schatten_.

Following the troubled period of the Nazi regime, the last decade of his life brought remarkable autumnal masterpieces such as _Metamorphosen_ and the _Four Last Songs_ - perhaps the best-loved orchestral songs by any composer.
Bestselling Titles by Richard Strauss