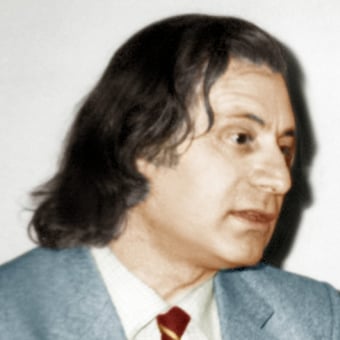 Alfred Schnittke
1934 - 1998
Alfred Schnittke was a leading Soviet composer from the post-Shostakovich generation. In 1962 he began work as a film-composer, eventually writing scores for more than 60 films, which helped earn him his living. His other compositions in the 1960s, however, show him excitedly mastering various existing styles of modern music, and in 1972 he completed Symphony No1, the monumental and tragic fresco of collage and stylisation which established him as a controversial leader of modern Soviet music. He invented the term 'polystylism' to describe such working with different styles.

In the 1980s, Schnittke then moved away from 'polystylism' towards a more integrated and personal style, and he composed many string concertos for the leading players of his day. In 1985 he had a stroke, which led to bad health but also to a more prolific output, and to more time spent outside the USSR. His last years were marked by an outward fame and yet an inward withdrawal from the world, into darker and more spiritual works.

"How important it is to catch up with yourself! There are enormous forces lurking within everyone, but many people die without having discovered this." — Alfred Schnittke

Click on the links above for further information.
Bestselling Titles by Alfred Schnittke