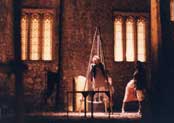 Photo: Rumney Studios
Maxwell Davies, Peter
The Martyrdom of St Magnus
(1976)
Chamber opera in nine scenes
Duration: 82 minutes
Music Text
Libretto by the composer after the novel by George Mackay Brown (E,G)
Scoring
M,T,2Bar,B
fl(=picc,afl).cl(=bcl)-hn.2tpt-perc(1):marimba/glsp/crot/2SD/
rototoms/2BD/pedal timp/2Chin.cym/2susp.cym(bowed)/
Burmese nipple gongs/2Japanese gongs/tam-t(with soapdish)/blackboard/
sandpaper/3 pairs claves (played by singers off-stage)-keyboards(1):
hpd,keyboard carillon (or cel),cel,autoharp (or zither),upright pft,(
=flex,railway whistle)-guitar(=tabor)-vla.vlc.db
Abbreviations (PDF)
Publisher
Boosey & Hawkes
Territory
This work is available from Boosey & Hawkes der ganzen Welt.
Uraufführung
6/18/1977
St Magnus Cathedral, Kirkwall, Orkney
Murray Melvin, Regisseur
Conductor: Peter Maxwell Davies
Company: The Fires of London
Roles
| | |
| --- | --- |
| EARL MAGNUS/GEFANGENER/REPORTER I/MÖNCH | Tenor |
| NORDISCHER HEROLD/KÖNIG VON NORWEGEN/HÜTER DES WEBSTUHLS/POLIZIST/HEROLD VON GRAF MAGNUS/REPORTER II/LITOLF DER METZGER/MÖNCH | Bariton |
| WALISISCHER HEROLD/VERSUCHER/HEROLD VON GRAF HÅKON/REPORTER III/MÖNCH/POLIZIST | Bariton |
| GRAF HÅKON/ARMEEOFFIZIER/REPORTER IV/BISCHOF VON ORKNEY/MÖNCH | Baß |
| BLINDE MARY/MARY O'CONNELL/DAS MÄDCHEN INGERTH | Mezzosopran |
Time and Place
Orkney, 12. Jahrhundert
Synopsis
Die blinde Mary führt, begleitet von einer Gitarre, in die erste von neun Szenen ein, in der wir Magnus inmitten einer Schlacht zwischen Nordmännern und Walisern sehen. Seine einzige Waffe sind die Worte des 23. Psalms, und am Ende gewinnen die Seinen. In der zweiten Szene widersteht er den Versuchungen von Ruhm, Heirat, Thron, religiöser Einkehr und Waaffengewalt; in der viel kürzeren dritten Szene beklagt die blinde Mary den Zustand von Orkney, das im Bürgerkrieg zwischen Magnus und Håkon zerrissen ist. Der Bischof einigt sich schließlich mit den Herolden auf eine Friedenskonferenz auf der Insel Egilsay. In der fünften Szene sehen wir Magnus auf Reisen; diese Szene hat ihren großartigsten Moment in einer Arie, in der er den Entschluß fällt, immer weiterzufahren, trotz aller Befürchtungen, was noch geschehen könne.

Als Håkon die Hinrichtung von Magnus befiehlt, wird der musikalische Stil zusehends wilder. In der siebten Szene nähern sich sowohl Handlung als auch Musik der Gegenwart, wenn Journalisten die politische Situation kommentieren. Vollends in der Gegenwart, oder zumindest in der jüngsten Vergangenheit angekommen ist die achte Szene: Håkon ist ein hysterischer Offizier und Magnus bloß ein Gefangener, der ruhig seinem Schicksal entgegensieht. Die letzte Szene gehört der blinden Mary; sie betet zu Magnus, dass sie ihr Augenlicht wiedererlangt – ihre Bitte wird erfüllt, während die übrige Besetzung, nurmehr aus Mönchen bestehend, Magnus' Namen in die Litanei nordischer Heiliger einreiht. Paul Griffiths



Repertoire Note
by Paul Griffiths
Magnus was a twelfth-century earl of the Orkney Islands, a Viking unusual for his pacifism, martyred in a dynastic struggle. The opera is a presentation of his story, based on George Mackay Brown's novel Magnus and devised to be played continuously, with a quite simple, stylized staging. In form the opera is somewhat liturgical, though often fiercely dramatic in its action and in its vocal comportment. The instrumental writing, too, is thoroughly virtuoso, being intended for The Fires of London with guitar and brass.
Subjects