Prokofieff, Serge
Semyon Kotko
(Semjon Kotko: Oper in 5 Akten, 7 Bildern)
(1939)
Opera in 5 acts and 7 scenes
Duration: 140 minutes
Music Text
Libretto by the composer and Valentin Katayev, after Katayev's novel 'I am a Son of the Working People' (R)
Scoring
4S,S(or high M),M(or S),3C,6T,BBar,4Bar,2B9or Bar),6B;chorus
2.picc.2.corA.2.bcl.2.dbn-4.3.3.1-timp.perc:tgl/wdbl/tamb/SD/BD/
cyms/tam-t-harp-str
On and off-stage bands: 2hn.2tpt,picctpt.3trbn.tuba-perc:SD/BD/alarm
bell/frame dr/cuckoo-folk lute-concertina-gtr
Abbreviations (PDF)
Publisher
Boosey & Hawkes / Sikorski
Territory
This work is available from Boosey & Hawkes / Sikorski for the UK, British Commonwealth (excluding Canada), Republic of Ireland, Germany, Switzerland, Denmark, Iceland, Norway, Sweden, Netherlands, Spain, Portugal, Greece, Turkey, Israel.
Uraufführung
6/23/1940
Moscow
Serafima Birman, Regisseur
Conductor: Mikhail Zhukov
Company: Stanislavsky Opera Theatre
Roles
| | |
| --- | --- |
| SEMJON KOTKO | Tenor |
| Semjons Mutter | Mezzospran |
| FROSIA, Semjons Schwester | Sopran |
| REMENIUK, Vorsitzender des Dorfsowjets | Baß |
| TKASCHENKO, ehemaliger Oberfeldwebel | Baß |
| CHIWRIA, Tkaschenkos Frau | Mezzosopran |
| SOFIA, Tkaschenkos Tochter | Sopran |
| ZAROW, ein Matrose | Bariton |
| LJUBKA, Zarows Verlobte | Sopran |
| MIKOLA, ein junger Bursche | Tenor |
| IWASENKO, ein alter Mann | Baß |
| Ein Arbeiter, der ehemalige Grundbesitzer KLEMBOWSKI | Tenor |
| Deutsche Soldaten, Hajdamaken, Frauen, alte Männer, Semjons Kumpane | |
Time and Place
Ukraine, 1918
Synopsis
Am Ende des ersten Weltkriegs hat Lenins bolschewistische Regierung ein Friedensabkommen mit Deutschland geschlossen. Die westliche Ukraine ist jedoch noch immer von den Deutschen besetzt, die mit nationalistischen ukrainischen Konterrevolutionären zusammenarbeiten. Semjon Kotko, ein Bauer und Soldat, kehrt in sein Heimatdorf zurück. Seine Hoffnungen richten sich auf Sonja, die Tochter des reichen Bauern Tkaschenko, dem er im Krieg das Leben gerettet hat. Semjons Mutter und seine Schwester Frosia heuern die traditionellen Hieratsvermittler an, doch Tkaschenko will von solch einem armen Schwiegersohn nichts wissen.

Drei Deutsche kommen, um Lebensmittel zu beschlagnahmen, doch werden sie von den Dorfbewohnern betrunken gemacht und ziehen unter Racheschwüren wieder ab. Semjons kommunistische Freunde vom Dorfsowjet beschließen, daß alle Revolutionäre sich in der Steppe verstecken sollen. Als die Deutschen und die Nationalisten ins Dorf kommen, faßt Tkaschenko den Entschluß, die Hochzeit seiner Tochter mit Semjon auf jeden Fall zu verhindern. Er bestimmt einige Revolutionäre und ein paar weitere gefährliche Bauern, darunter Semjon, zum Tod durch Erhängen. Semjon und Frosias Liebhaber Mikola gelingt die Flucht, als die Deutschen die Hütte von Semjons Mutter in Brand setzen. Im nächtlichen Wald treffen Semjon und Mikola mit kommunistischen Partisanen zusammen. Gemeinsam schwören sie, ihre Truppe wieder aufzubauen und das Dorf zurückzugewinnen.

Nach Monaten kommt Frosia in das Versteck, mit Nachricht von weiteren barbarischen Grausamkeiten. Außerdem plant Tkaschenko, Sonja mit dem vorrevolutionären Gutsherrn zu verheiraten. Währenddessen rückt die Rote Armee immer weiter vor und die Partisanen müssen das Dorf für die Befreiung vorbereiten. Semjon und Mikola stoßen als Kundschafter alleine vor und sehen gerade noch, wie Sonja in die Kirche gezerrt wird. Es kommt zu einem Gerangel, und Semjon und Mikola werden verhaftet und zur Hinrichtung abgeführt. Plötzlich erhalten die Deutschen den Befehl zum Rückzug, da die Rote Armee bereits nah ist. Die anderen Partisanen kommen herbei, Tkaschenko wird von einem Erschießungskommando abgeführt, und die glücklichen Paare sind vereinigt. Alle bereiten sich auf den revolutionären Kampf für eine freie sowjetische Ukraine vor.
Moods
dramatisch, romantisch
Subjects
Recommended Recording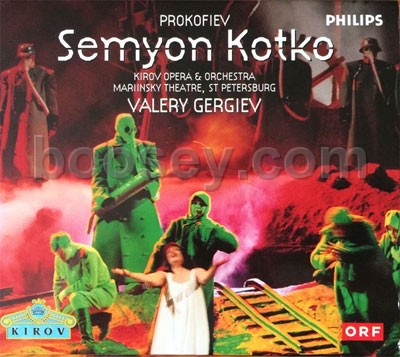 Tatiana Pavlovskaya/Ekaterina Solovieva/Viktor Lutsiuk/Genady Bezzubenkov/Kirov Opera and Orchestra/Valery Gergiev
Philips 464 605-2 (2 CDs)