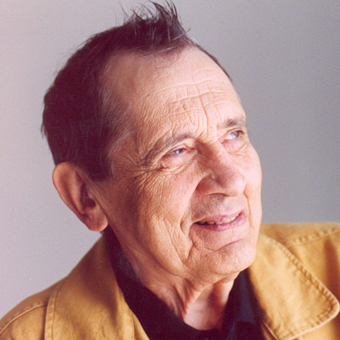 Einojuhani Rautavaara
1928 - 2016
Introduction à la musique d'Einojuhani Rautavaara
par Hilary Finch
L'un des objets auquel Einojuhani Rautavaara tient le plus est un morceau de papier à l'encre décolorée, encadré et suspendu à un mur de son bureau. On peut y lire, en date de mai 1955 : « Sibelius vous conseille la bourse d'étude Koussevitzky à Tanglewood (USA) pendant six semaines à partir de juillet STOP possibilité de continuer une année à la Juilliard STOP ». Tout en figurant parmi les protégés de Sibelius, Rautavaara, ainsi que tous les compositeurs finlandais qui suivirent la lignée du maître, sut forger sa propre voie. Il a honoré la confiance de Sibelius au cours d'une carrière prolifique et en constante évolution.

Etudiant, puis archiviste de la musique, recteur et professeur de composition du Conservatoire d'Helsinki, Rautavaara a évolué, ainsi qu'il l'a écrit, par expérimentations du néoclassicisme au constructivisme d'avant-garde puis au sérialisme : la théorie dodécaphonique de Schoenberg demeurant pour lui une source d'inspiration. Il s'engagea ensuite, notamment dans ses œuvres symphoniques et après une période de romantisme avoué, vers le mysticisme distinctif de sa célèbre septième symphonie Angel of Light. Actuellement, à l'approche de ses quatre-vingt-dix ans, Rautavaara continue à composer avec énergie, souvent à l'intention d'interprètes éminents.

L'inspiration littéraire a constamment modelé la pensée et l'écriture de Rautavaara. Ses idées philosophiques et leurs images sonores imprègnent une œuvre largement diffusée et bien accueillie. Lecteur particulièrement fervent de la littérature allemande, il éprouve une fascination pour la crainte obscure habitant les anges poétiques de Rainer Maria Rilke. A l'image de ce denier, il irrigue son œuvre de sa propre vision spirituelle. Il se déclare «conscient d'un niveau d'existence extérieur au nôtre, au-delà de la connaissance». Il tire également la force de sa spiritualité du monde naturel, reflété dans Cantus arcticus, concerto pour oiseaux (sur bande enregistrée) et orchestre, l'une de ses premières œuvres et l'une des plus réputées. Très sensible aux sensations visuelles et sonores fournies par la nature, il a affirmé que son concerto pour contrebasse, Angel of Dusk, lui fut inspiré par la vue, à travers le hublot d'un avion, d'un soleil couchant radieux aperçu entre des nuages sombres. En 2010, l'année de son quatre-vingt-cinquième anniversaire, après avoir récupéré d'une grave opération, Rautavaara acheva son concerto pour violoncelle aux mélodies d'apparence infinie, si justement intitulé Toward the Horizon (Vers l'horizon).

La musique chorale occupe une immense part de la production de Rautavaara (les superbes chœurs de Finlande ainsi que son épouse Siri, soprano, ont contribué à son attirance vers ce domaine). Sa musique vocale comprend également de grandes œuvres scéniques, parmi lesquelles Vincent, opéra sur Van Gogh de 1986, The House of the Sun (1989) et Aleksi Kivi, opéra en trois actes portant un regard fugace sur la vie du célèbre écrivain finnois. Un monologue et quatre mélodies extraits d'Aleksi Kivi s'intègrent à un important corpus d'œuvres pour voix seule qui comprend des mises en musique de Shakespeare et de Rilke, ainsi que le cycle de mélodies Rubaiyat, de création récente, sur la poésie d'Omar Khayyám composé à l'intention de Gerald Finley, et Balada pour chœur, ténor et orchestre renouant avec la poésie de Frederico Garcia Lorca, un des auteurs favoris de Rautavaara, créé à Madrid en 2015.

Toujours à l'affût de pratique vocale, Rautavaara nourrit encore le souhait d'écrire un nouvel opéra de chambre, cette fois sur l'histoire survenue en Grèce d'un jeune garçon ramené à terre par un dauphin après un naufrage. Le livret, écrit par le compositeur lui-même, est en attente de la métamorphose effectuée grâce à la mélodie en incessante évolution et à la prodigieuse texture de sa musique.
Hilary Finch, 2015
(Critique, auteur et chroniqueur radiophonique pour The Times, BBC Music Magazine et BBC Radio 3, spécialiste de la mélodie et de la musique de Finlande et d'Islande)