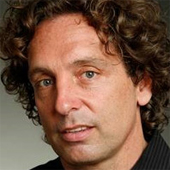 Jim Papoulis
Jim Papoulis composes, orchestrates, and conducts music from many genres and is known for work that combines contemporary, classical, and world sounds with contemporary rhythms, voices, technology, and children's voices.  He has written for and conducted hundreds of live shows worldwide for musicians and artists that include symphonies, quartets, pop bands, gospel and children's choirs, and top talents Aretha Franklin, Shania Twain, Bette Midler, Faith Hill, Maroon V.
Recent Commissions:  Score for TunaHAKI documentary; Untitled for Brooklyn Ballet Company; Kolenna Sawa in Arabic for ACDA closing concert in Miami '07; NYU Jazz Vocal Ensemble Spring concert piece '07; Conducting concerts worldwide of Dvorak's New World Symphony and History's Doorstep (Papoulis original orchestral work); two choral pieces featured at the Martin Luther King Jr. celebrations in Boston '06/'07; Sing for Peace for the opening of Lincoln Center's holiday season; ballet for Alvin Ailey featuring children's choir, orchestra, and world percussion; a recreation of Dance Theatre of Harlem's signature Prodigal Son with Tony Award Winner Geoffrey Holder; and a competition piece for The Young People's Chorus of New York City.
As a composer with Boosey & Hawkes, he has received honors from publications nationwide such as JW Pepper's Editor's Choice Award (Can You Hear, Give Us Hope, Oye.)  Papoulis' album CAN YOU HEAR has sold thousands of copies, and features artists such as Martha Wash, the Tokyo String Quartet, Geoffrey Holder, Odetta. Hyatt Hotels sponsored a successful tour of Sounds of a Better World concerts conceived and conducted by Papoulis, with CD and concert proceeds benefitting children's music and mentoring programs through The Foundation for Small Voices.
Awards include: The Brizzolara Family's Most Inspirational Film at The Hampton's Internationall Film Festival '04 (The Untold Story of Emmett Till), Winner Best Feature, Arizona International Film Festival '04, Special Recognition, Prada Foundation, Tribeca Film Festival '04, Best Selection Avignon/NY Film Festival '04 (Lustre), Four Telly Awards'05 and '06; The Young People of New York City's Artistic Honoree Award '05; University of Miami School of Music Alumni of Distinction '04, Metro Mass Choir Inspiration Award '03, National Association of Composers awards for Philopoly & Ghost, two Clios.   Papoulis holds Graduate degrees in music composition and performance from the University of Miami.