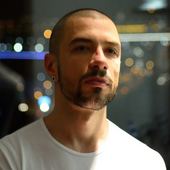 Marko Nikodijevic
b. 4 January 1980, Subotica, Serbia
Marko Nikodijevic was born in 1980 in Subotica, Serbia and studied composition in Belgrade with Zoran Eric and Srdjan Hofman between 1995 and 2003. In addition, he attended courses and lectures in nonlinear mathematics and physics. Following his education in the Serbian capital, he undertook advanced training in composition with Marco Stroppa at the Academy of Music and the Performing Arts in Stuttgart in 2003. Nikodijevic settled in Stuttgart, from where he received stipends and attended master courses and composition seminars in Apeldoorn, Visby, Weimar, Amsterdam, Salzwedel and Baden-Baden. His compositional production has won prizes and awards at the International Young Composers Meeting in Apeldoorn, the Gaudeamus Music Week in Amsterdam, the 3rd Brandenburg Biennale and the UNESCO Rostrum of Composers.
He resided in Paris from 2012 to 2013 as a scholarship holder at the Cité internationale des Arts. In 2013 Marko Nikodijevic received one of the three composition furtherance prizes of the Ernst von Siemens Music Foundation and in 2014 was awarded the Deutscher Musikautorenpreis (German Composers' Prize) in the category Promotion of New Talent.
This biography can be reproduced free of charge in concert programs with the following credit: Reprinted by kind permission of Boosey & Hawkes/Sikorski.