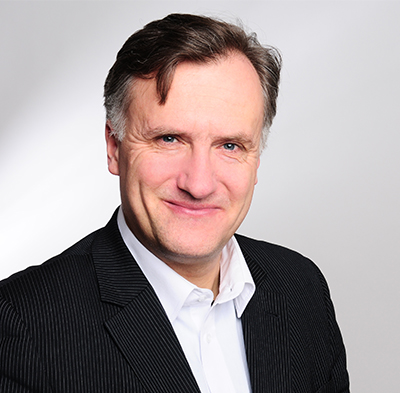 Jan Müller-Wieland
b. 30 March 1966, Hamburg
Jan Müller-Wieland was born in Hamburg on 30 March 1966. At the age of twenty he went to Lübeck to study double bass with Willi Beyer and composition with Friedhelm Döhl. He gained his first practical experience as assistant conductor of the university orchestra. In 1988 Jan Müller-Wieland took up external composition studies in Cologne and Rome with Hans Werner Henze, which was to be formative for his later career, particularly with regard to his music theatre works. Numerous scholarships gave him the opportunity for extended stays abroad. Since 1993 he has lived in Berlin as a freelance composer and in 2006 became a lecturer and in 2007 professor of composition at the Munich Musikhochschule.
Müller-Wieland only rarely renounces the power of the word and the latent scenic vision. This is also confirmed by his extensive preoccupation with the genre of melodrama. His music is often characterised by powerful, complex, even jazz-inspired rhythms. By means of unsentimental, expressive gestures, he is able to articulate joie de vivre and ambiguous humour as well as phantasmagorias of destruction or concrete manifestations of evil.
Jan Müller-Wieland was composer-in-residence at various ensembles, orchestras and festivals (2003 3rd Feldkirch Festival and Festival "Les Jeux Floraux de Marseillan", 2004 Tchaikovsky Symphony Orchestra in Moscow, 2005 Beaux Arts Trio in the USA, 2001 Menuhin Festival in Gstaad and others). He has received, among others, awards from the Berlin Senate for Cultural Affairs, the Bach Prize of the Free and Hanseatic City of Hamburg and the Ernst von Siemens Music Foundation, as well as the Hindemith Prize of the Schleswig-Holstein Music Festival.
He has received prestigious commissions from the Hamburg State Opera, the German State Opera Berlin, the Vienna Chamber Opera, the Munich Biennial, the Beethovenfest Bonn and the Hamburg Philharmonic, to name but a few. For many years he has been involved in joint projects with the actor Klaus Maria Brandauer. In addition to his compositional activities, Müller-Wieland also appears as a conductor.
His chamber opera Das Gastspiel based on Frank Wedekind's "Der Kammersänger" for the Munich Biennial was a resounding hit. For the Görlitz Theatre he wrote the opera Nathans Tod (Nathan's Death) based Lessing and a play by G. Tabori.
The biography may be reprinted free of charge in programme booklets with the following credit: Reprinted with kind permission of the music publisher Boosey & Hawkes/Sikorski