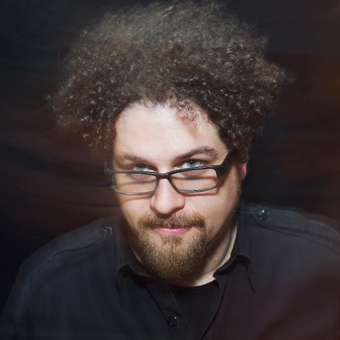 David T. Little
b. 25 October 1978, New Jersey
Short Biography:
David T. Little is "one of the most imaginative young composers" on the scene (The New Yorker), with "a knack for overturning musical conventions" (The New York Times). His operas Dog Days, JFK, and Vinkensport (librettos by Royce Vavrek), and Soldier Songs have been widely acclaimed, "prov[ing] beyond any doubt that opera has both a relevant present and a bright future" (The New York Times). A new film version of Soldier Songs, created for the Opera Philadelphia Channel, was nominated for both a 2022 GRAMMY Award in the Best Opera Recording category and a 2022 International Opera Award for Digital Opera. The debut recording of his oratorio AM I BORN was listed among the best recordings of 2022 by Opera News.
In fall 2022, Little's latest film opera Black Lodge—written with Anne Waldman, starring Timur & the Dime Museum, and directed by Michael Joseph McQuilken—received its live premiere with film screening as part of Opera Philadelphia's Festival O22 and the 2022 Philadelphia Fringe Festival. Upcoming projects include the choral opera SIN-EATER, premiering in 2023, and the monodrama What Belongs to You (based on Garth Greenwell's celebrated novel) for GRAMMY-winning tenor Karim Sulayman and Alarm Will Sound, premiering in 2024. Little is also developing a new work commissioned by the Metropolitan Opera / Lincoln Center Theater new work program. Little's music has been presented by Carnegie Hall, Park Avenue Armory, Holland Festival, BAM Next Wave, LA Opera, Houston Grand Opera, Opera Philadelphia, Opéra de Montréal, the Chicago Symphony Orchestra, and the LA Philharmonic.
From 2014 to 2017, Little was composer-in-residence with Opera Philadelphia and Music-Theatre Group. He has previously served as Executive Director of the MATA Festival and on the board of directors at Chamber Music America, and currently chairs the composition department at Mannes—The New School. The founding artistic director of the ensemble Newspeak, his music can be heard on New Amsterdam, Innova, Sono Luminus, Pentatone, and National Sawdust Tracks labels. He is published by Boosey & Hawkes.
December 2022
This biography can be reproduced free of charge in concert programs with the following credit:
Reprinted by kind permission of Boosey & Hawkes.
Long Biography:
David T. Little is "one of the most imaginative young composers" on the scene, a "young radical" (The New Yorker), with "a knack for overturning musical conventions" (The New York Times). His "sharp, elegantly bristling" music (New York magazine) is potent and dramatic, drawing as much upon his experience as a punk/metal drummer and knowledge of the musical theater tradition as his classical pedigree. In his work he often undertakes political and existential themes, and has quickly garnered great success in writing for larger forces, making a mark as "a hope for the future of opera" (Washington Post).
The Wall Street Journal called Dog Days, Little's chamber opera collaboration with librettist Royce Vavrek, "one of the most exciting new operas of recent years," and The New York Times cited its 2012 world premiere as one of two highlights of the season, stating that the work "proved beyond any doubt that opera has both a relevant present and a bright future." John Rockwell, writing for Opera magazine wrote "This is [Little's] first full-length opera; it will not be his last." Following the world premiere with Peak Performances and Beth Morrison Projects, the production and cast toured through Fort Worth Opera and Los Angeles Opera (spring 2015) and performed the New York premiere on the Prototype Festival (January 2016). Two new productions premiered in Germany in 2016 (Theater Bielefeld and Mecklenburgisches Staatstheater Schwerin). In fall 2016, National Sawdust Tracks released the world-premiere recording of Dog Days, starring the original cast and Newspeak led by conductor Alan Pierson; the CD was listed as one of NPR's Best Recordings of 2016.
In 2016, Little and Vavrek—whom the Wall Street Journal has called "one of the most exciting composer-librettist teams working in opera today"—debuted their first grand opera, JFK, to high praise. Opera News proclaimed it a "ravishing…triumphant work" and the Wall Street Journal called it "absorbing…at once grander and more intimate than Dog Days." Commissioned by Fort Worth Opera, Opéra de Montréal, and American Lyric Theater, the piece premiered in Fort Worth, and has since traveled to Opéra de Montréal and received its European premiere in a new staging at Staatstheater Augsburg in 2019. They are currently developing a new work commissioned by the Metropolitan Opera / Lincoln Center Theater new work program, among several others.
Little's multimedia music theatre work, Soldier Songs, based on interviews with veterans, received its New York City premiere in the inaugural Prototype Festival and was later presented by the Holland Festival. George Loomis, for Musical America, said, "[Little] has earned acclaim for the imaginative way he draws on his varied musical interests to produce arresting and coherent works. One might have expected some sort of stylistic hybrid, but Little's music falls comfortably within the modern-day 'classical' idiom, his allusions to pop adding rhythmic verve and melodic appeal." Seth Colter Walls, reviewing the commercial recording for eMusic, concluded that the piece was "thrillingly done." Soldier Songs has quickly become part of the operatic repertoire, with performances in recent years by Los Angeles Opera, Atlanta Opera, San Diego Opera, and Des Moines Metro Opera, to name a few. Opera Philadelphia presented a new cinematic version of the work in 2020. 2020 also saw the creation of a film version of Little and Vavrek's one-act comedy, Vinkensport, or The Finch Opera, produced by Houston Grand Opera in partnership with Austin Opera and Opera San Antonio.
Summer 2021, saw the world premiere of The Crocus Palimpsest, a solo cello work for virtuoso Matt Haimovitz, as well as a first look at Act I of Little's upcoming opera for GRAMMY-winning tenor Karim Sulayman and Alarm Will Sound, based on Garth Greenwell's celebrated novel What Belongs to You. Previews of the full work will be presented at Washington University in St. Louis, in advance of the world premiere in 2023. Little is also developing a new work commissioned by the Metropolitan Opera / Lincoln Center Theater new work program. His new film opera Black Lodge, written with Anne Waldman, starring Timur Bekbosunov, and produced by Beth Morrison Projects, is previewed in theaters in fall 2021. The 2021/2022 season also sees the European premiere of Little's Haunt of Last Nightfall presented by Solisten der Neuen Philharmonie Westfalen in Gelsenkirchen, Germany.
Other recent premieres include Lessons (2020) at the Crested Butte Music Festival, hold my tongue (2018) at the Muziekgebouw aan 't IJ, Amsterdam, The Conjured Life (2017), a centennial tribute to Lou Harrison, premiered by the Cabrillo Festival Orchestra and Cristian Macelaru; Accumulation of Purpose (2017) for solo piano, premiered by Bruce Levingston at Zankel Hall; and the earthen lack (2018) for solo cello, premiered by Brian Snow at the Detroit Institute of Arts. Additional recent projects include Ghostlight—ritual for six players, commissioned by The Kennedy Center for Eighth Blackbird, who premiered the work there in March 2016 and dress in magic amulets, dark, from My feet, a meditation on the feet of Christ on the cross after Buxtehude, commissioned by The Crossing and International Contemporary Ensemble, who presented the work in Philadelphia and in New York as part of the Mostly Mozart Festival in 2016, and released a recording of the piece on Innova Recordings in February 2017.
Other recent recordings include AGENCY, a major work for string quartet and electronics, recorded by the American Contemporary Music Ensemble (ACME) and Third Coast percussion (released October 2019); hold my tongue for voice, percussion, and electronics, released in April 2020 on Bec Plexus' debut album STICKLIP; a new chamber version of Archaeology commissioned by Blythe Gaissert for her debut album Home, and the world premiere recording of The Crocus Palimpsest by Matt Haimovitz as part of his Primavera Project. Upcoming releases include the premiere recording of Little oratorio with Royce Vavrek, AM I BORN, recorded by The Choir of Trinity Wall Street and NOVUS NY with Newspeak's Mellissa Hughes as soloist; and new recordings of both Accumulation of Purpose and Elegy (monsters are real), on a solo album from Newspeak's James Johnston.
Little is the founding artistic director and former drummer for the amplified chamber ensemble, Newspeak. Hailed as "potent" (Alex Ross), "innovative" (New York magazine), and "fierce" (Time Out New York), Newspeak explores the relationship of music and politics, while confronting head-on the boundaries between the classical and rock traditions. Newspeak released its first CD of commissioned works in November 2010, to critical acclaim. "You could call this punk classical," Lucid Culture proclaimed, noting that the disc is "fearlessly aware, insightfully political (and) resolutely defiant." The Washington Post wrote of their 2013 Washington DC performance, "Newspeak pretty much rules." Newspeak founded the New Music Bake Sale, which fostered contemporary classical community annually in Brooklyn from 2009-2016. They have been featured at the Park Avenue Armory, on the Ecstatic Music Festival, on the 25th anniversary Bang on a Can Marathon and made their international debut at the 2014 Holland Festival. They have released four commercial recordings, with a fifth on the way.
Little's music has been performed throughout the world—including in Dresden, London, Leipzig, Edinburgh, Milan, Zürich, San Francisco, Havana, Chicago, Singapore, Los Angeles, Montréal, Brisbane, and at the Tanglewood, Aspen, MATA, Bang on a Can, and Cabrillo Festivals. His work has been commissioned by The Metropolitan Opera / Lincoln Center Theater, The John F. Kennedy Center for the Performing Arts, Carnegie Hall, the Baltimore Symphony Orchestra / Marin Alsop, London Sinfonietta, Kronos Quartet, The Crossing, Matt Haimovitz, Beth Morrison Projects, Alarm Will Sound, Opéra de Montréal, Fort Worth Opera, Brooklyn Youth Chorus, Third Coast Percussion, and Dawn Upshaw / Bard Conservatory. In addition, his music has been presented by the Los Angeles Philharmonic, Chicago Symphony Orchestra, Holland Festival, Park Avenue Armory, Tanglewood Music Center, Jacob's Pillow Dance Festival, International Festival of Arts and Ideas, Aspen Music Festival, Miller Theatre (composer portrait), Mostly Mozart Festival, Museum of Contemporary Art Chicago, PROTOTYPE Festival, Gaudeamus Muziekweek, the Brooklyn Academy of Music, the Oregon Bach Festival and the opera companies of Los Angeles, Houston, Philadelphia, Montre´al, San Diego, Atlanta, Austin, New York (New York City Opera), Pittsburgh, San Antonio, Des Moines, and Fargo in North America, and Augsburg, Saarbrucken, Bielefeld, and Schwerin in Europe.
Little has received awards and recognition from The American Academy of Arts and Letters, the Mid Atlantic Arts Foundation, Meet The Composer, the American Music Center, the Harvey Gaul Competition, BMI, and ASCAP. He holds degrees from Susquehanna University (2001), The University of Michigan (2002), and Princeton University (PhD, 2011), where his research explored the intersection of music and politics. His primary teachers have included Steven Mackey, Paul Lansky, William Bolcom, Michael Daugherty, David Mattingly, Patrick Long, and Osvaldo Golijov.
Little has served as Executive Director of New York's MATA Festival (2010-2012), Director of Composition at Shenandoah Conservatory (2012-2015), and since 2015 has served on the composition faculty at Mannes-The New School in New York City, where he currently serves as program chair. He has served as Composer-in-Residence with Opera Philadelphia and Music-Theatre Group (2014-2017), Zürich's Apples and Olives Festival (2016), the Mizzou International Composers Festival (2020 and 2021) and held the 2016 William Bolcom Residency in Composition at the University of Michigan. His music is published by Boosey & Hawkes.
www.davidtlittle.com
September 2021
This biography can be reproduced free of charge in concert programs with the following credit:
Reprinted by kind permission of Boosey & Hawkes