for clarinet, cello and piano
Duration: 15'
Publisher
B&B
Territory
This work is available from Boosey & Hawkes in der ganzen Welt.
World Premiere
2/3/2018
Theaterhaus, T1, Stuttgart
Trio Catch

Composer's Notes
As if I would – or could...

Das Merriam-Webster Online Dictionary verwendet diesen Satz aus dem 41. Kapitel von Charles Dickens' Roman David Copperfield als Beispielsatz für die Konjunktion "as if".
Und wirklich ist ein Großteil des Romans, insbesondere Copperfields Beschreibung der Kindheit und Jugendzeit, von einem spielerischen, oft erfrischend-naiven "Als-ob-Charakter" geprägt. Dem Leser bekannte Gesten werden in eine neue Umgebung gebracht (z.B. die Sichtweise des Kindes). Mit den Augen des Kindes erscheinen die Dinge seltsam fremd. Routinen werden durchbrochen.
In musikalischer Analogie versucht dieses "As if" darauf aufmerksam zu machen, dass jedes musikalisches Material, jedes musikalische Element sein ganz eigenes (auch historisches) Umfeld mit sich bringt. In diesem hat es eine bestimmte Bedeutung, wird aber als Material/Element dadurch nicht grundsätzlich definiert. Es zeigt sich nur eine "Möglichkeit" welche in das Material hinein erfunden wird. Das Material erscheint nun mit dieser "Möglichkeit" (insofern diese dem Hörer bekannt ist). Der kompositorisch-ästhetische Prozess ist immer zum Teil die Loslösung von einer solchen, zum Teil die Schaffung einer neuen "Möglichkeit", verbunden mit dem künstlerischen Vorgang, diese als Notwendigkeit erscheinen zu lassen. Das Material ist dann der Übergang zur individuellen Form, ein Wegweiser.

"People can't die, along the coast," said Mr. Pegotty, "except when the tide's pretty nigh out...
(David Copperfield, Kapitel 30)

Auch das gehört zum Komponieren: Die Lust am Lügen und aus der Lüge eine Realität zu machen, welche in unser Leben hineinwirkt. Und: Sich von Zwängen zu befreien, dabei neue Zwänge schaffend.

...'the system' put an end to all doubts, and disposed of all anomalies. Nobody appeared to have the least idea that there was any other system, but THE system, to be considered.
(David Copperfield, Kapitel 61)

Das Gewaltsame des "einen Systems" mag mitunter notwendig sein. So staut sich die Energie, bis plötzlich "ein Anderes" aufblitzt.
In der deutschen Übersetzung lässt Gustav Meyrink diesen Satz poetischer und geheimnisvoller klingen, als im englischen Original:

Niemand schien die geringste Ahnung zu haben, dass es noch ein anderes "System" geben könnte als dieses hier.
Repertoire Note
Irisierende Farbkombinationen des atonalen Spektrums, bis hin zum Übergang ins Geräuschhafte, werden in diesem anspruchsvollen Stück zum Gegenstand eines Spiels. Darin entfaltet sich ein dynamisches Beziehungsgeflecht zwischen den drei zutiefst persönlichen instrumentalen Stimmen. Das Klangmaterial dieser lebhaften Auseinandersetzung ist geprägt von überraschenden Gesten und scharfkantigen Strukturen. Johannes Boris Borowski, eine herausragende Stimme der jungen Gegenwartmusik, erkundet im Modus des "Als-Ob" die Befreiung der Klänge von scheinbar fest zugewiesenen Kontexten.
Recommended Recording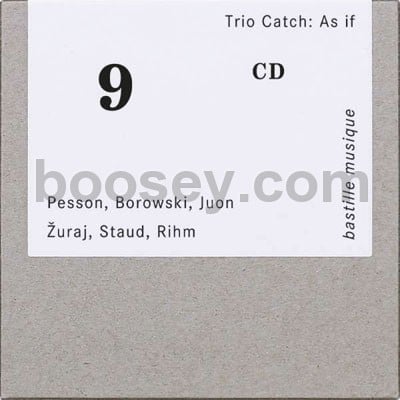 Trio Catch
Bastille Musique 009