Photo: National Public Radio
Copland, Aaron
The Tender Land
(1952-54, rev.1955)
Opera in three acts
Duration: 100 minutes
Music Text
Libretto by Horace Everett (E)
Scoring
2S,M,A,2T,2Bar,B,speaker; chorus
2(II=picc).1.corA.2(II=bcl).2-2.2.2.0-timp.perc(2):glsp/tgl/SD/wdbl/
xyl/susp.cym/ratchet/BD/slap stick/tabor/sandpaper-harp-pft(ad lib)-
strings
Chamber version by Murry Sidlin (1987):
1.0.1.1-0.0.0.0-pft-strings(4.0.2.2.1)
Abbreviations (PDF)
Publisher
Boosey & Hawkes
Territory
This work is available from Boosey & Hawkes for the world.
World Premiere
4/1/1954
City Center, New York, NY
Jerome Robbins, director
Conductor: Thomas Schippers
Company: New York City Opera
World premiere of version
5/20/1955
Oberlin College
Company: Oberlin Conservatory Opera Laboratory
Roles
| | |
| --- | --- |
| LAURIE MOSS, the older sister (17-19 years old) | Soprano |
| MA MOSS | Contralto |
| BETH MOSS, the younger sister (8-12 years old) | speaking role |
| GRANDPA MOSS | Bass |
| MARTIN, a drifter | Tenor |
| TOP, a drifter | Baritone |
| MR. SPLINTERS, the postman | Tenor |
| MRS. SPLINTERS | Mezzo-Soprano |
| MR. JENKS | Baritone |
| MRS. JENKS | Soprano |
| Party Guests (four or more couples) | |
Time and Place
Spring in the early 1930s, a lower middle class farm in the mid-west.
Synopsis
The isolated world of a rural family turns around the graduation of its elder daughter. Yet, she is unsure of her place in that world. It is invaded by a threat and then an actuality of two outsiders who excite in the girl dreams of a larger life. The boys are accepted into the community as harvesters.





At a party on the eve before graduation, one of them falls in love with the girl. Grandpa discovers the match, and the boys are ordered away. The boy and girl plan an elopement at daybreak, but the boy, attacked by fears of responsibility abetted by forebodings of his companion, flees. The girl's anticipation of fulfillment turns to despair when she finds the boys gone. Her family, who remind her of graduation and the pattern of her life, consoles her. But she realizes that the time has come to break that pattern and assert her own being. Though accepting, the mother does not recognize the woman her daughter has become. And as the girl goes to find her own life, the mother turns to her younger daughter knowing that one responsibility has ended and another has begun.
Subjects
Recommended Recording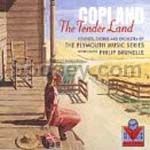 Elisabeth Comeaux, Janis Hardy, Maria Jette, LeRoy Lehr, Dan Dressen, James Bohn, Vern Sutton, Agnes Smuda, Merle Fristad, Sue Herber, Plymouth Music Series Chorus, Plymouth Music Series Orchestra, Philip Brunelle
Virgin Classics VCD7592532