Prokofieff, Serge
The Story of a Real Man
(Die Geschichte eines wahren Menschen)
(1947-48)
Opera in three acts, eleven scenes
Duration: 135 minutes
Music Text
Libretto by Serge Prokofieff and Mira Mendelson-Prokofieva (R)
Scoring
3S,M,C,3T,comicT,Bar,Bar(orB),4B,2speakers;chorus
2.2.2.2-4.2.3.1-timp.perc:tgl/SD/tamb/cyms/BD/wdbl-pft-str
Abbreviations (PDF)
Publisher
Boosey & Hawkes / Sikorski
Territory
This work is available from Boosey & Hawkes / Sikorski for the UK, British Commonwealth (excluding Canada), Republic of Ireland, Germany, Switzerland, Denmark, Iceland, Norway, Sweden, Netherlands, Spain, Portugal, Greece, Turkey, Israel.
World Premiere
12/2/1948
Kirov Theatre, Leningrad
Conductor: Boris Khaikin
Company: Kirov Theatre
Roles
| | |
| --- | --- |
| Alexei, a pilot | Baritone |
| Olga, his fiancée | Soprano |
| Grandfather Mikhailo, chairman of a collective farm | Tenor |
| Vasilissa, grandmother | Contralto |
| Varya, a farm woman | Mezzo Soprano |
| Petrovna, a farm woman | Soprano |
| Seryenka, a farm boy | spoken role |
| Fedya, a farm boy | spoken role |
| Andrei, a pilot friend of Alexei's | Bass |
| First surgeon | Tenor |
| Second surgeon | Bass |
| Alexei's mother | Mezzo Soprano |
| Klavdia, a nurse | Mezzo Soprano |
| Commissar | Bass |
| Kukushkin, a pilot | Tenor |
| Gvozdev, a tank driver | Tenor |
| Vasili Vasilevich, the head surgeon | Bass |
| Senior physician | Tenor |
| Zinochka | Mezzo Soprano |
| Colonel | Bass |
Time and Place
Soviet Union during World War II
Synopsis
Alexei, a Soviet airman in World War ll, has been shot down behind enemy lines. Gravely injured, he drags himself through the snow, encouraged to survive by a vision of his beloved Olga. Eventually he is found by Soviet collective-farm workers, who have been living wild since the Germans destroyed their village. They feed him and daringly send a message to the Soviet forces who rescue him in an air-ambulance, piloted by Andrei. In hospital, Alexei's leg is amputated and, delirious, he sees his mother and Olga. The nurse Klavdia laments Alexei's ordeal, while a Commissar celebrates the heroism of the Red Army during the civil war. Observing the suffering in his ward, Alexei is inspired by his Soviet citizenship and affirms he can overcome anything. Spring comes and Alexei is in physiotherapy, learning to walk again and thinking fondly of Olga. Meanwhile, to the distress of Klavdia, the Commissar dies quite suddenly, physically exhausted yet joyful that the Soviet Union will soon win the war. Alexei writes to tell Olga that he must return to the war, but cannot admit to her that he has lost a leg. In a sanatorium pilots are being nursed back to health in readiness for battle. To the astonishment of the doctors, the physiotherapist Zinochka makes her patients dance a waltz and then a rumba. Witnessing that Alexei is the best dancer, the doctors understand that he really will fly again. Alexei returns to the front, where he pilots his plane and saves the life of Andrei as once Andrei had saved his. All realise that such a nation as this, 'our Mother Russia,… will always be victorious'. Alexei decides to tell Olga the truth about his amputation, but as he begins writing, she arrives to find him and they are reunited.
Subjects
Recommended Recording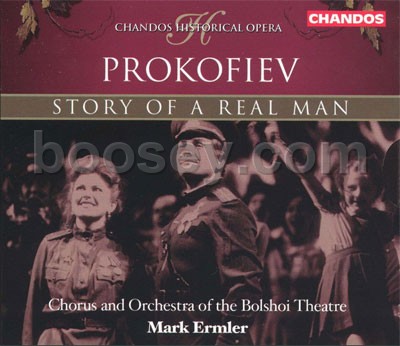 Evegeni Kibkalo/Artur Eizen/Glafira Deomidova/Bolshoi Opera/Mark Ermler
Chandos 10002