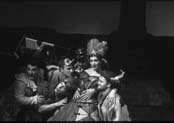 Photo: Amelia Stein
Haas, Pavel
Sarlatán
(The Charlatan/Scharlatan)
(1934-37)
Tragicomic opera in three acts
Duration: 125 minutes
Music Text
Libretto by the composer; German version by Jaroslava and Thomas Mandl (Cz,G)
Scoring
2S,6T,Bar,2B; small roles; chorus;
2.picc.2.corA.2.bcl.2.dbn-4.3.3.1-timp.perc-harp-cel-strings
Abbreviations (PDF)
Publisher
Boosey & Hawkes / Bote & Bock
Territory
This work is available from Boosey & Hawkes for the world.
World Premiere
4/2/1938
National Theatre, Brno
Rudolf Walter, director
Conductor: Guido Arnoldi
Company: Ensemble of the National Theatre Brno
Roles
| | |
| --- | --- |
| DOCTOR PUSTRPALK, travelling quack | Baritone |
| ROSINA, his wife | Soprano |
| BACCALAUREATES | Tenor |
| SOURMILK, cook | Tenor |
| COBWEB | Bass |
| PICKLED HERRING | Tenor |
| FIRE-EATER | Tenor |
| TIGHTROPE WALKER | Bass |
| SNAKE-CHARMER | Bass |
| PHARMACIST | Tenor |
| 2 SERVANTS | Tenor, baritone |
| AMARANTA | Soprano |
| JOCHIMUS, monk | Baritone |
| KING | Baritone |
| Town physician, treacle seller, Jochimus's man, 3 students, man with crutches, travelling army doctor | small parts |
| Further small non-speaking parts | |
| Army, crowd, carnival revellers | |
Time and Place
Europe, turn of the 17th century
Synopsis


The story is set at the end of the 17th century in a Europe laid waste by the 30 years' war and now on the threshold of the Age of Enlightenment. Doctors are either revered as magicians or persecuted as charlatans, according to whether their skills are successful or not. Pustrpalk is such a doctor who plies his trade as a travelling quack, together with Rosina, his harridan of a wife, and a retinue of itinerant entertainers and players, who make the people laugh with their antics and conjuring tricks when, inside, a patient yells as his teeth are pulled. One day, Pustrpalk cures a lady of rank of taedium vitae with a tried and tested remedy. She leaves her boring professor husband, joins the troupe, and is the cause of considerable fuss, for Pustrpalk wants her as his concubine and, to have two women in tow, seldom turns out well... Wherever Pustrpalk goes, he is the hero of the day. Even the King himself applauds him and calls him the greatest man of the times. However, Pustrpalk knows that the times are not great, that the angel of death walks by his side, grinning, and that the church is a hindrance to progress for the human body is still taboo. When a sick monk dies under his knife and the people suspect him of murder, he loses heart. As a 'Don Quixote of medicine', half sage, half jester, he dies a misjudged man in the circle of his grotesque fairground folk.
Moods
Comic, Dramatic, Poetic, Romantic
Subjects
Recommended Recording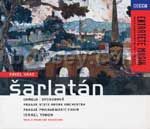 Vladimír Chmelo / Jan Jezek / Prague State Opera Orchestra / Israel Yinon
Decca 460 042-2