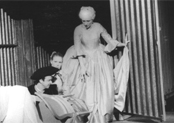 Photo: Oliver Hohlfeld
Klebe, Giselher
Figaro läßt sich scheiden
(Figaro Gets Divorced)
(1963)
Opera in two acts (nine scenes)
Duration: 145 minutes
Music Text
Libretto by the composer, after Ödön von Horvath (G)
Scoring
3S,M,3T,2Bar,BBar,10B,speaking roles; optional ballet;
1.1.corA.1.basset hn.bcl.2-2.1.1.0-timp.perc-harp-strings;
On-stage: 0.picc.1.0.asax.0-2.1.1.1perc-harmonium-hpcd
Abbreviations (PDF)
Publisher
Boosey & Hawkes / Bote & Bock
Territory
This work is available from Boosey & Hawkes for the world.
World Premiere
6/28/1963
Hamburg
Conductor: Leopold Ludwig
Company: Ensemble der Staatsoper Hamburg
Roles
| | |
| --- | --- |
| COUNT ALMAVIVA | Baritone |
| THE COUNTESS, his wife | Soprano |
| FIGARO, the Count's valet | Baritone |
| SUSANNA, his wife, the countess's lady-in-waiting | Soprano |
| AN OFFICER | Tenor |
| A DOCTOR | Bass |
| FOUR BORDER OFFICIALS | Basses |
| A FORESTER | Tenor |
| A MIDWIFE | Mezzo soprano |
| A SCHOOLMASTER | Bass |
| ANTONIO, the count's gardner , Susanna's uncle | Bass |
| FANCHETTE, his daughter | Soprano |
| PEDRILLO, her husband, the count's former groom | Bass baritone |
| CONSTABLE | Bass |
| CHERUBIN, the count's former page | Tenor |
| A GUEST | Bass |
| DETECTIVE SUPERINTENDENT | Bass |
| CARLOS and MAURIZIO, foundlings | speaking roles |
| A DRUMMER | |
| Sentries | |
Time and Place
Two neighbouring countries during and after a revolution
Synopsis
Count Almaviva, the Countess, Figaro, and Susanna escape from the marauding henchmen of the revolution and cross the border illegally into a neighbouring country. They are arrested but, thanks to the Count's diplomatic contacts, are soon at liberty again. They settle in a famous ski resort, there to await the end of the revolution and the restoration of the old order. Because they keep up their accustomed life-style, financial resources soon come to an end. In the meantime, the new order has become established so there is no question of returning. Before the decline in the Count's social status sets in, Figaro and Susanna take their leave of their master. Figaro buys a hairdresser's shop in Grosshadersdorf in order to ply his former trade. Figaro, who had once foreseen the revolution and – in a small way – had revolted against the Count, becomes very bourgeois in a short space of time, which leads to frictions with Susanna and, finally, to the break-up of their marriage. Susanna wanted a child by Figaro, but he did not think this advantageous "in these times". Cherubino, who runs a bar frequented by emigrés in the capital of the "host" country, employs Susanna as a waitress and so she manages to survive without a work or residency permit. One day the Count turns up, who, in the meantime is a widower, completely poverty-stricken and down and out. In spite of all the risks, Susanna decides to return to the old manor with him which the new rulers – an irony of history – have turned into a home for foundlings. Figaro, who couldn't bear it in Grosshadersdorf without Susanna, has also gone home. There he exposes the corruption of the new loyal-to-the-party-line estate manager, the former stable boy Pedrillo, and takes the helm of the children's home himself. Figaro, who has matured into a humanist, is reconciled with Susanna and grants Almaviva asylum.
Subjects