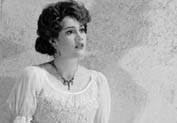 Photo: Carol Rosegg
Rorem, Ned
Miss Julie
(1964-65 rev.1979)
Opera in one act
Duration: 90 minutes
Music Text
Libretto by Kenward Elmslie based on the play by August Strindberg (E)
Scoring
2S,S(or boy S),M,2T,BBar; chorus
2.2.2.2-3.2.2.0-timp.perc(2):xyl/slap stick/SD/BD/gong/tgl/vib/tamb/
cyms/TD/glsp/cast/chimes/susp.cym/bongos-guitar-harp-strings
Abbreviations (PDF)
Publisher
Boosey & Hawkes
Territory
This work is available from Boosey & Hawkes for the world.
World Premiere
11/4/1965
New York City Center, New York, New York
Nikos Psacharopoulos, director
Conductor: Robert Zeller
Company: New York City Opera Company
Roles
| | |
| --- | --- |
| MISS JULIE, 25 daughter of the Count | Soprano |
| JOHN, 30, the valet | Bass Baritone |
| CHRISTINE, 28, the cook | Mezzo Soprano |
| NIELS, 38, Miss Julie's fiancee | Tenor |
| REVELLERS, Servants and Farmhands | Chorus |
| WILDCAT BOY | Soprano or Boy Soprano |
| YOUNG GIRL | Soprano |
| YOUNG BOY | Tenor |
Time and Place
1880s, the servants' quarters of a country estate in Sweden
Synopsis
The Count's daughter, the jaded Miss Julie, is engaged to Niels. During the Midsummer Eve celebration, Miss Julie commands Niels to kiss her boot. He breaks off their engagement in disgust. Later that night, Christine, the cook at the country estate, and her fiancé, John, the Count's valet, sit with Miss Julie. Miss Julie begins to flirt wildly with John, who ultimately admits to being in love with her since he was a boy. The next day John and Miss Julie plan on how they will spend their lives together. John wants to escape to Lake Como where he can make his fortune running a hotel. He is counting on capital Miss Julie will provide.  Unfortunately, Miss Julie has no money of her own. John sternly tells her to find the money somehow. Christine discovers John's betrayal and threatens to leave the Count's employ. The lovers hurry to leave, and Miss Julie insists on taking her pet canary. Enraged, John kills the bird.  Miss Julie grabs John's razor and places it to her wrist. The bell then rings: John has been summoned by the Count, and he leaves. In desperation, Miss Julie runs to the garden and slashes her wrists.
Subjects
Recommended Recording

David Blackburn, Judd Ernster, Theodora Fried, Mark Mulligan, Heather Sarris, Philip Torre, Laurelyn Watson, Manhattan School of Music, David Gilbert
Newport Classics NPD85605/2