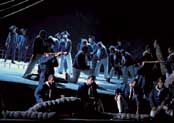 Photo: Bill Rafferty
Britten, Benjamin
Billy Budd (revised 2-Act version)
2-Act version by the composer
(1951, rev.1960)
Opera in two acts
Duration: 158 minutes
Music Text
Libretto by E M Forster and Eric Crozier, adapted from the story by Herman Melville (E,G,I)
Scoring
Major roles: T,Bar,B; minor roles: 4T,7Bar,BBar,2B;
children's roles: 4Tr,boy speaker,boy actors; men's chorus
4(II,III,IV=picc).2.corA.3(II=Ebcl,bcl;III=bcl).asax.2.dbn-
4.4(III in D).3.1-timp(3).perc(6):xyl/glsp/tgl/wdbl/tamb/SD/TD/BD/
whip/cyms/2 gongs (small, medium)/4drums(on-stage)-harp-strings
Abbreviations (PDF)
Publisher
Boosey & Hawkes
Territory
This work is available from Boosey & Hawkes for the world.
World Premiere
12/1/1951
Royal Opera House, Covent Garden, London
Basil Coleman, director
Conductor: Benjamin Britten
Company: Royal Opera Covent Garden
World premiere of version
1/9/1964
Royal Opera House, Covent Garden, London
Basil Coleman, director
Conductor: Georg Solti
Company: Royal Opera Covent Garden
Roles
| | |
| --- | --- |
| EDWARD FAIRFAX VERE, Captain of H.M.S. Indomitable | Tenor |
| BILLY BUDD, foretopman | Baritone |
| JOHN CLAGGART, Master-at-arms | Bass |
| Mr. REDBURN, First Lieutenant | Baritone |
| Mr. FLINT, Sailing Master | Baritone |
| LIEUTENANT RATCLIFFE | Bass |
| RED WHISKERS, an impressed man | Tenor |
| DONALD, a sailor | Baritone |
| DANSKER, an old seaman | Bass |
| A NOVICE | Tenor |
| SQUEAK, a ship's corporal | Tenor |
| BOSUN | Baritone |
| FIRST MATE | Baritone |
| SECOND MATE | Baritone |
| MAINTOP | Tenor |
| NOVICE'S FRIEND | Baritone |
| ARTHUR JONES, an impressed man | Baritone |
| FOUR MIDSHIPMEN | Boys Voices |
| CABIN BOY | Speaking role |
| Officers, saliors, powder monkeys, drummers, marines | |
Time and Place
On board HMS Indomitable during the French Wars of 1797
Synopsis
The opera is preceded by a prologue in which the former Captain Vere, an old man, ponders the significance of events that took place long ago. The main action is set on board the British naval vessel HMS Indomitable in 1797. The crew goes about its tasks driven by the brutality of the ship's Master-at-arms, John Claggart, who rules by violence. Three new sailors, press-ganged from a passing merchant ship, are brought on board. Two of them are meagre specimens, but the third — Billy Budd — is young, strong and handsome. His goodness wins the hearts of all except Claggart, whose dark world is turned upside down by Billy's beauty and grace, and who determines to destroy him. To this end, he has his creature Squeak rifle amongst Billy's belongings, and when the young sailor catches him the old sea dog Dansker warns Billy that Claggart has it in for him. He then has the Novice — cowed into submission by an earlier beating — try to bribe Billy into supporting mutiny, but to no avail. Nevertheless Claggart takes a complaint to Vere, though is interrupted in his accusation by a brief skirmish with a French frigate that ends with the enemy escaping. Claggart then accuses Billy, who is called in by Vere to defend himself. His stammer, however, silences him, and he knocks Claggart down with a single blow that strikes him dead. At the court martial, Vere fails to speak up for Billy, who is condemned. He goes to his death with Vere's name on his lips. In the Epilogue, we return to the aged Vere, who again scrutinises his role in these events.
Repertoire Note
Billy Budd was written during 1950-51 and first performed in December 1951 as part of that year's 'Festival of Britain' celebrations. In 1960, Britten revised the work, contracting the original four acts into two, in which form it is now generally performed (though the original version is now again available for performance). The work is based on Herman Melville's posthumous novel Billy Budd, Foretopman which Britten and his librettists (E.M.Forster and Eric Crozier) transformed into an opera of great musico-dramatic power and psychological subtlety. Although Billy is the opera's eponymous hero, the real focus of the work is the moral dilemma facing Captain Vere who, confronted with an agonising decision between saving Billy and his sense of duty as the ship's Captain is at the centre of the drama (a theme further explored by Britten in Gloriana).
Billy Budd employs the largest orchestra of any Britten opera, capable of unleashing an elemental power when the moment demands it, but in general, the orchestration favours the more sharply etched, transparent textures developed in the chamber operas.
Reproduced by kind permission of the Britten-Pears Library
Moods
Dramatic, Poetic, Tragic
Subjects
Recommended Recording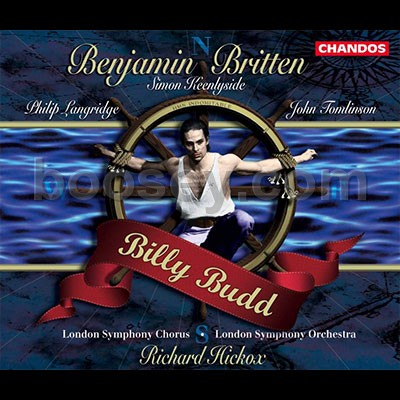 Peter Pears/Michael Langdon/John Shirley-Quirk/Owen Brannigan/Robert Tear/Benjamin Luxon/London Symphony Orchestra/Ambrosian Opera Chorus/Wandsworth School Boys' Choir
Decca  417 4282
Click here to purchase this CD set from Amazon
Simon Keenlyside/Philip Langridge/John Tomlinson/Alan Opie/Matthew Best/Alan Ewing/Francis Egerton/Quentin Hayes/Clive Bayley/Mark Padmore/Richard Coxon/Timothy Dufore/Christopher Keyte/Richard Whitehouse/Daniel Norman/Roderick Williams/London Symphony Orchestra and Chorus/Tiffin Boys School Choir/Richard Hickox
Chandos CHAN9826