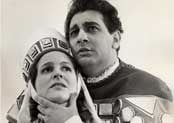 Photo: Fred Fehl
Ginastera, Alberto
Opera in three acts and nine scenes
Duration: 104 minutes
Music Text
Libretto by Alejandro Casona (S,E,F,G)
Scoring
Major roles: S,M,T,Bar,B
minor roles: S,M,A,T,2Bar,B,2children; chorus
3(I=afl,III=picc).3(III=corA).3(III=bcl).3(III=dbn)-6.4.4.1-timp
perc(6):3SD/3crot/3tgl/3susp.cym/2cym/BD/25bells/3tam-t/ratchet/whip/
tamb/2small anvils/xyl/glsp-cel-mand-harp-strings
On-stage: 8(or4)hns.8(or4)tpts
Abbreviations (PDF)
Publisher
Boosey & Hawkes
Territory
This work is available from Boosey & Hawkes for the world.
World Premiere
7/24/1964
Teatro Colon, Buenos Aires
Jorge Petraglia, director
Conductor: Bruno Bartoletti
Roles
| | |
| --- | --- |
| FLORINDA, daughter of Count Don Julian | Soprano |
| DON RODRIGO, King of Spain | Tenor |
| DON JULIAN, Governor of Ceuta | Baritone |
| TEUDISELO, Tutor of Don Rodrigo | Bass |
| FORTUNA, Florinda's maidservant | Mezzo-Soprano |
| 1st Maiden | Soprano |
| 2nd Maiden | Mezzo-Soprano |
| Bishop | Baritone |
| Blind Hermit | Baritone |
| 1st Page | Tenor |
| 2nd Page | Baritone |
| 1st Blacksmith | Tenor |
| 2nd Blacksmith | Baritone |
| 1st Messenger | Tenor |
| 2nd Messenger | Baritone |
| Young Messenger | Contralto |
| Voice in the Dream | Bass |
| Peasant Boy | Child |
| Peasant Girl | Child |
Time and Place
8th Century- Toledo Spain
Synopsis
Don Rodrigo, after avenging an attack upon his father, returns to be crowned King of Spain. Don Julian, Governor of Africa, introduces Rodrigo to his daughter Florinda.  Rodrigo promises her father to treat her as a daughter if he will allow her to stay at court.  During Rodrigo's coronation, Florinda drops the crown.  Disregarding this sinister omen, he places the crown on his own head. Since ancient times every King of Spain has respected the secret locked inside a chest in the Vault of Hercules, but Rodrigo forces the chest open.  Inside he finds an Arab flag and a curse: He will be the last of his dynasty and the Arabs will enslave Spain.  Florinda bathes naked in a fountain, and Rodrigo sees her.  He enters Florinda's chamber at night and forcefully seduces her.  Furious at Rodrigo for both seducing her and then abandoning her, Florinda writes her father demanding revenge.  Don Julian raises a rebellion against him and defeats Rodrigo at Guadalete.  After the battle, Rodrigo, a penniless wanderer dying in the home of a blind hermit, is discovered by Florinda.  After confessing his sins he dies in her arms.
Subjects