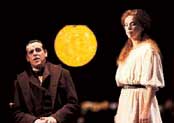 Photo: Bill Rafferty
Delius, Frederick
Fennimore and Gerda
(1909-10)
Two episodes from the life of Niels Lyhne in eleven pictures
Duration: 76 minutes
Music Text
Libretto after the novel by Jens Peter Jacobsen (G,E)
Scoring
Major roles: S,2M,T,Bar,B; minor roles: 3S,2M,T,5Bar; chorus
3(III=picc).2.corA.bass ob.3.bcl.3.sarrusophone-4.3.3.1-timp.perc:
glsp/tgl/cyms-2harps-strings
Abbreviations (PDF)
Publisher
Boosey & Hawkes
Territory
This work is available from Boosey & Hawkes for the world.
World Premiere
10/21/1919
Frankfurt a.M.
Conductor: Gustav Brecher
Company: Frankfurt Opera
Roles
| | |
| --- | --- |
| CONSUL CLAUDI | Bass |
| HIS WIFE | Mezzo Soprano |
| FENNIMORE, their daughter | Mezzo Soprano |
| NIELS LYHNE, Claudi's nephew | Baritone |
| ERIK REFSTRUP, Niels's cousin | Tenor |
| A SQUIRE | Baritone |
| A TAX COLLECTOR | Baritone |
| A TUTOR | Tenor |
| A BRANDY DISTILLER | Baritone |
| A DOCTOR | Tenor |
| COUNCILLOR SKINNERUP | Bass |
| GERDA, his daughter | Soprano |
| INGRID, his daughter | Soprano |
| LILA, his daughter | Soprano |
| MARIT, his daughter | Soprano |
| Maidservants, Girls and Farm-hands | Chorus |
Time and Place
Denmark, around 1910
Synopsis
The first of the eleven pictures takes place in a room at the home of Consul Claudi at Fjordby in Denmark. Claudi's nephew Niels Lyhne is talking to the Consul's daughter Fennimore, with whom he has fallen in love. Her reaction leads him to believe his love is returned. In the next picture, in Claudi's garden by the fjord, however, Niels sees Fennimore embraced by his cousin Erik, to whom he is also very close, and realises his mistake.
Three years pass before the third picture, set in the home the married Fennimore and Erik have made together. They are unhappy, however, and Niels's visit gives Fennimore a chance to express her dissatisfactions. That evening Erik also opens up his heart to Niels. Later during Niels's stay, Erik is lured out for the evening by his drinking companions and, left alone, Niels and Fennimore are drawn together. The following morning Erik comes back drunk. Niels and Fennimore go for a walk in the forest and he kisses her. They declare their love for one another. That winter, as Fennimore waits at home for Niels's arrival, she receives a telegram with news that Erik has fallen from a cart and been killed. Consumed with guilt she rushes off to meet Niels and finishes their relationship.
Three years pass. At a farmyard on his estate at harvest-time, Niels finds solace in nature. One year later, in the garden of Councillor Skinnerup, he is entranced by the Councillor's daughter, Gerda. He proposes to her and is accepted.
Subjects
Recommended Recording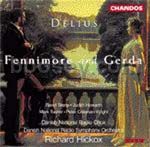 Elisabeth Söderström, Brian Rayner Cook, Danish National Radio Choir, Danish National Radio Symphony Orchestra, Meredith Davies
EMI CDM5663142
Randi Stene, Judith Howarth, Danish National Radio Choir, Danish National Radio Symphony Orchestra, Richard Hickox
Chandos 9589