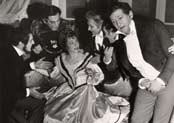 Photo: Ingebourg Sello
Martinu, Bohuslav
The Marriage
(Zenitba)
(1952)
Comic opera in two acts
Duration: 61 minutes
Music Text
Libretto by the composer, after the play by Nikolai Gogol (E,G,Cz)
Scoring
Major roles: S,M,A,T,Bar; minor roles: 2T,2B,2speakers
1.picc.2.2.2-2.2.0.1-timp.perc:cyms/BD/SD-pft-strings
Reduced scoring by Udo Zimmermann and Rene Hirschfeld (1989):
2.1(=corA).1(=bcl).1(=dbn)-1.1.1.0-perc(1):timp/BD/SD/susp.cym/tgl-
pft-strings(1.1.1.1.1)
Abbreviations (PDF)
Publisher
Boosey & Hawkes
Territory
This work is available from Boosey & Hawkes for the world.
World Premiere
2/7/1953
NBC TV Opera Theater, New York, New York
Peter Herman Adler, director
Conductor: Guido Cantelli
Company: NBC TV Opera Theater
World stage premiere
3/13/1954
Hamburg
Conductor: Horst Stein
Company: Hamburg State Opera
World premiere of version
9/21/1989
Opera Bonn, Werkstattbuhne
Behnke, Strauch, Szirmay, Wood
Conductor: Udo Zimmerman
Company: Beethovenhalle Orchestra
Roles
| | |
| --- | --- |
| PODKOLYOSIN, a government official | Baritone |
| STEPAN, his servant | Spoken role |
| FYOKLA IVANOVNA, a professional matchmaker | Mezzo-Soprano |
| KOCHKARYOV, Podkolyosin's friend | Tenor |
| AGAFYA, daughter of a merchant | Soprano |
| ARINA, her aunt | Contralto |
| DUNYASHKA, their maid | Spoken role |
| IVAN, a government official | Bass |
| ANUCHKIN, a retired army officer | Tenor |
| ZHEVAKIN, a retired naval officer | Tenor |
Time and Place
St Petersburg, early 19th century
Synopsis
The setting is St Petersburg in the early part of the nineteenth century. Podkolyosin, a government official and bachelor, is contemplating marriage, and has engaged the marriage broker Fyokla to locate a suitable bride. She tells him about Agafya, a woman of 29. He cannot make up his mind. His friend Kochkaryov rushes in, wheedles the information about the prospective bride out of Fyokla, and decides to take over from her. He presses upon his friend the positive aspects of marriage. They set off for Agafya's house. She meanwhile awaits prospective suitors. Fyokla has organised three apart from Podkolyosin: Ivan (another government official), Anuchkin and Zhevakin (retired army and naval officers respectively). They are introduced, all somewhat unprepossessing. Kochkaryov arrives with Podkolyosin, who remains entirely silent throughout. Agafya retires in confusion and dismisses the suitors. Kochkaryov persuades Podkolyosin to marry her. In the second act Agafya rejects three of her suitors, two of whom seem neither surprised nor disappointed, though Kochkaryov disingenuously offers to forward Zhevakin's suit if he goes home. Instead, Kochkaryov carries on his matchmaking between Agafya and Podkolyosin by praising each of them to the other. Left alone, they make small talk, then Podkolyosin suddenly leaves. Agafya has, however, decided to marry him. Kochkaryov pushes Podkolyosin through the door to propose. He fails to do so, so his friend does it for him. He is accepted. He decides their wedding must be immediate, and Agafya goes off to dress. Kochkaryov leaves, and Podkolyosin changes his mind and escapes through a window. Back in his room, his servant announces that his tailcoat is finished. Podkolyosin waves him away.
Subjects
Recommended Recording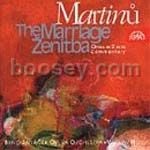 Vladimir Bauer, Josef Stefl, Brno Janácek Opera Orchestra, Václav Nosek
Supraphon SU33792