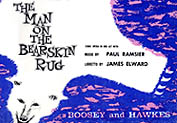 Photo:
Ramsier, Paul
The Man on the Bearskin Rug
(1963)
Comic opera in one act
Duration: 35 minutes
Music Text
Libretto by James Elward (E)
Scoring
S,A,Bar
1.1(=corA).2(II=bcl).1-2.1.0.0-perc(1):timp/SD/BD/tamb/tgl/cym/gong-
harp(ad lib)-pft-1.1.1.1.1 or string orchestra
Abbreviations (PDF)
Publisher
Boosey & Hawkes
Territory
This work is available from Boosey & Hawkes for the world.
World Premiere
4/13/1969
Aberdeen, South Dakota
Company: Northern State Teachers College
Roles
| | |
| --- | --- |
| HENRY | Baritone |
| DORIS, Henry's fiancée | Soprano |
| MRS. LE MOINE, Henry's landlady | Contralto |
Time and Place
Today, the home of Henry and Doris
Synopsis
Henry and his fiancée Doris are arguing over a party they have just left. As Doris leaves to return to the party, the landlady, Mrs. Le Moine, arrives with a large package that contains an enormous white bearskin rug. When unrolled and placed on the floor, it makes an incredible difference to the atmosphere in the room. Mrs. Le Moine practically throws herself in Henry's arms, and they are discovered by Doris. Henry persuades Doris to stand on the rug with him.  Its effect is immediate, and they are kissing when Mrs. Le Moine returns with the news that the rug really belongs to the upstairs neighbour Sidney. With its departure, things settle down to the same dull reality. Doris resumes her nagging and Henry returns to his role as a bullied man.
Subjects