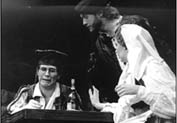 Photo: The Center for Contemporary Opera
Argento, Dominick
Comic opera in two scenes and an interlude
Duration: 70 minutes
Music Text
Libretto by John Manlove, after the Induction Scene from Shakespeare's `The Taming of the Shrew' (E)
Scoring
3S,M,3T,3Bar,B,mime
1.1.1.1-2.1.0.0-perc(1):SD/tgl/tamb/wdbl/cyms/susp.cym/xyl-
hpd or pft-string quintet(1.1.1.1.1)-3recorders on stage (optional)
Abbreviations (PDF)
Publisher
Boosey & Hawkes
Territory
This work is available from Boosey & Hawkes for the world.
World Premiere
5/31/1963
Minneapolis, Minnesota
John Manlove, director
Conductor: William Johnson
Company: University of Minnesota
Roles
| | |
| --- | --- |
| PETER TURPH, a tailor | Tenor |
| HENRY PIMPERNELL, a smith | Bass-Baritone |
| CHRISTOPHER SLY, a tinker | Bass-Baritone |
| MARION HACKET, hostess of the ale-house | Mezzo-Soprano |
| 3 Huntsmen (later, 3 Servants) | Baritone, Tenor, Bass |
| A Lord | Tenor |
| 2 Ladies | Lyric-Sopranos |
| A Page | Soprano |
| An officer of the law, musicians | non-singing roles |
Time and Place
16th century, England
Synopsis
Christopher Sly is the story of a drunken tinker pursued by his creditors.  Found sleeping off his liquor by a Lord and his hunting party, Sly is carted off to the castle where the Lord and his entourage decide to play an elaborate practical joke on him:  They try to convince the tinker that he is a nobleman gone mad, and his past life is merely a dream.  When Sly wakes up, his every need—especially for drink—is catered to.  The Lord even provides his own Page to masquerade as Sly's young wife.  He then sees his creditors arrive at the castle and realizes that a joke has been played on him.  He resolves to get even with a joke of his own.  He makes off with as many of the Lord's valuables as he can stuff in his sack, pays off his creditors, and lives happily ever after.  In fact, he comes before the curtain with the Lord's mistresses on each arm and points to the moral of the story:  Pleasure is of the moment and should be enjoyed to the full.
Subjects