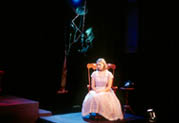 Photo: Stanford University
Barab, Seymour
Comic opera in one act
Duration: 35 minutes
Music Text
Libretto by Evelyn Manacher Draper after Ryerson/Clements' 'All on a Summer's Day' (E)
Scoring
lyrS,S,M,BBar
1.1.1.1-1.1.1.0-timp.perc(1):hi-hat/cyms/susp.cym/SD/t.bells/tgl-
harp-strings
Abbreviations (PDF)
Publisher
Boosey & Hawkes
Territory
This work is available from Boosey & Hawkes for the world.
World Premiere
1/11/1957
Augustana College, Rock Island, Illinois
Company: Augustana College Opera Workshop
Roles
| | |
| --- | --- |
| FIRST KNITTER | Lyric Soprano |
| SECOND KNITTER | Soprano |
| THIRD KNITTER | Soprano |
| THE REPRESENTATIVE | Bass Baritone |
Time and Place
Any time period, a garden with a bench
Synopsis
Set in a garden with a bench, a Representative, the eternal messenger of fate, brings to each of three young women her dearest wish: One would like to be wealthy; one would like to be famous; and one would like to have a lover in her life.  Each discovers she has not asked for enough: the rich woman misses real friends; the famous author yearns for love; and the third young woman finds marriage a tedious chore.  Even the Representative is dissatisfied with his life: He needs an assistant to help him with his tough job.  The moral of this comic opera:  We all want too much or too little.
Subjects