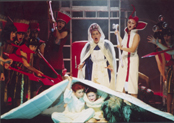 Photo: Gert Kiermeyer
Glanert, Detlev
Die drei Rätsel
(I tre indovinelli / The Three Riddles)
(2002/2003)
Opera in two acts for children and adults
Duration: 85 minutes
Music Text
Libretto by Carlo Pasquini; German translation by Erdmuthe Brand; French translation by Pascal Hild (I,G,F)
Scoring
2S(boy and girl),S,M,T,2Bar,B; children's chorus; mixed chorus;
2.0.2.2sax.0-3rec-0.1.1.0-timp.perc(4-5):wdbl/SD/BD/tam-t/jingles/susp.cym/cym/whip/tgl/watergong/pasteboard rattle/thundersheet/rattle/tom-t/claves/t.bell(D1)/tamb/shaker/glass sound/metal sound/2glsp/3metallophones(S,A,B)/3 xyl(S,A,B)-pft-elec.org-3gtr-3vlnI.3vlnII.3vlnIII.3vlc.db [most instruments may be doubled or more];
on-stage:TD(3 or more)/wind machine
Abbreviations (PDF)
Publisher
Boosey & Hawkes / Bote & Bock
Territory
This work is available from Boosey & Hawkes for the world.
World Premiere
10/12/2003
Opernhaus, Halle
Frank Martin Widmaier, director
Conductor: Pavel Baleff
Company: Opernhaus Halle
Roles
| | |
| --- | --- |
| LASSO, son of Popa | Boy |
| Princess SCHARADA | Girl |
| POPA, Lasso's mother / wild boar | Mezzo-soprano |
| King ZEPHALUS, Scharada's father (a potbelly) / FLY, a squabbler | High Baritone |
| CRYING COCK, a postman / GALLOWS-BIRD, Lasso's friend | Tenor |
| Mr SUBTLE, a gambler / TARTARUS, a donkey | Baritone |
| SWALLOW, a drunkard / AVERNUS, a pig | Bass |
| Signora SOURSWEET / Mrs BONE, court lady of Scharada's | Soprano |
| Friends, alchemists, sea shell | children's chorus |
| Guests, moon, robbers, astrologers, clairvoyants, courtiers, guards, the Sea | mixed chorus |
Time and Place
Fairy-tale; a wine cellar - a river in a wood - in front of and inside a castle - a seashore
Synopsis
Lasso, a boy, decides to travel into a mysterious kingdom and to become king there by asking the Princess three riddles she cannot solve. Lasso's mother is furious and gives him a poisoned cake on his way, for she thinks it better he dies at her hands than because of his own folly. On his journey through the woods, a wild boar eats the cake, and so Lasso discovers his mother's plan. Shortly afterwards, he is tied to a tree by robbers who then eat the wild boar; they have to die as well. Suddenly, a man falls down out of the tree, having tried in vain to commit suicide; he sets Lasso free.

Lasso and his new friend reach the peculiar kingdom and, at a great ceremony, Lasso asks the Princess Scharada his three riddles – which she cannot solve. Generously, but also moved by growing sympathy, he allows her to be helped by her astrologers and alchemists. But all efforts to solve his riddles fail. Once again, Lasso gives Scharada a chance: they shall spend the night together in one bed; if he manages to make her laugh, he shall finally be the winner. He succeeds but the envious court people are already lurking. They have even brought Lasso's mother, who now angrily drags him out of the bed. All become involved in a fight, and at its climax, an earthquake destroys the whole castle and the kingdom.

When the fogs disperse, Lasso, his friend and Scharada are all alone by the seashore. The sea glistens and invites them on great journeys. The friend falls in love with a singing shell and stays with her; Lasso and the Princess happily set out into the wide world.
Press Quotes
"Henze's pupil has enriched Carlo Pasquini's libretto with exquisite instrumentation and provided music full of speed and melody, engaging the listener with allusions of songs and making for captivating listening even in the more grotesque passages… like his earlier stage works, Glanert's new opera is likely to make its way into the repertoire." (Joachim Lange, Opernwelt, Dec 2003)

"The Three Riddles is no childish nonsense but real Glanert: changing skilfully between breathless motor activity and quietness, brillantly orchestrated, with a tendency towards the grotesque – yet at the same time always easily agreeable... A boy leaves his parents' home to conquer a princess who demands the solution of three impossible riddles and who admits defeat first reluctantly and then willingly... The end is revolution: the crowded adult world collapses... The premiere would serve as a good model for the future of opera – with listeners and performers of all ages." (Johannes Killyen, Mitteldeutsche Zeitung, 14 Oct 2003)
Composer Notes
The opera The Three Riddles is intended as a cooperative project for professional and non-professional musicians and singers of all age groups from eight upwards. When staging this piece, it would be best to strive for a collaboration between a professional institution (such as an opera house, music academy, etc.) and an educational institution (e.g. a children's theatre, music school, etc.).

The most effective type of production would be one in which all of the groups mentioned are represented in the orchestra and on stage, with professional musicians, needless to say, in the minority. The author recommends casting professionals (or teachers and talented students) in the six solo roles for adults as well as selected first sections of the orchestra. The adult choir can either be a professional choir, a talented hobby choir, or even a mixture of both. The conductor and director should definitely be professionals.

In the framework of an educational project, it would even be conceivable and desirable to allow the children to design the stage settings and costumes. The overall production, however, should be entrusted to professionals.

The plot of this opera derives from the oral tradition of fairy-tale telling in Europe. The first written records can be found in the fifteenth century, and variations of this story are present in all nations in the works of, among others, Grimm, Anderson, Hauff, with the most famous example from Gozzi, known by the title of Turandot. It deals with one of the greatest coming-of-age stories in our cultural history, one involving the discovery of another world, an alien world, the discovery of emotions, of the unknown, told in a poetic and symbolic fashion. It would be wrong to imbue the interpretation of the piece with any type of eroticism, however, because it deals far more with a depiction of a very first journey into the unknown.

The piece must be seen by its producers as a full-fledged grand opera, its authors in no way intended for any part of it to be reduced to a "children's" level. For this reason, it is desirable that the piece be seen by both children and adults within the context of a completely normal visit to the opera, although due to the amount of abstract thinking required to appreciate theatrical processes, children in attendance should not be younger than eight years of age.

The authors hope that all of the participants involved in such a project can learn from one another: professionalism, craftsmanship, and courage for some, and enthusiasm, dedication, and humility for others.

© Detlev Glanert, Autumn 2003
Subjects