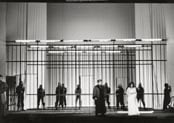 Photo: Magdeburg Theatre / Jürgen Banse
Goldschmidt, Berthold
Opera in 3 Acts
Duration: 110 minutes
Music Text
Libretto by Martin Esslin after Shelley's verse drama 'The Cenci' (E)
Scoring
S,M,A,3T,2Bar,2B; small roles; chorus;
3(III=picc).3(III=corA).3(III=bcl).3(III=dbn)-4.3.3.1-timp.perc(2/3):
susp.cym/BD/tgl/xyl/glsp/vib/cyms/tam-t/lg tam-t/t.bells/TD/SD-harp-
strings
Abbreviations (PDF)
Publisher
Boosey & Hawkes
Territory
This work is available from Boosey & Hawkes for the world.
World Premiere
4/16/1988
Queen Elizabeth Hall, London
Conductor: Odaline de la Martinez
Company: Pro Musica Chorus of London / London Chamber Symphony
World stage premiere
9/10/1994
Magdeburg
Max K. Hoffmann, director
Conductor: Mathias Husmann
Company: Theater Magdeburg
Roles
| | |
| --- | --- |
| COUNT FRANCESCO CENCI | High Baritone |
| LUCREZIA, his second wife | Alto |
| BEATRICE, his daughter from a first marriage | Soprano |
| BERNARDO, her brother | Mezzo-Soprano |
| CARDINAL CAMILLO | Bass |
| ORSINO, a Prelate | Tenor |
| MARZIO, a hired murderer | Baritone |
| OLIMPIO, a hired murderer | Bass |
| A JUDGE | Tenor |
| A SINGER AT COUNT CENCI'S FEAST | Tenor |
| PRINCE COLONNA | Baritone |
| ANDREA, a servant | Baritone |
| AN OFFICER | Tenor |
| CARPENTER I & II | Tenor, Baritone |
| Servants, Dancers, Gaolers, People | |
Time and Place
In and near Rome, 1599
Synopsis


In the Cenci palace, the Count's daughter Beatrice, her stepmother Lucrezia and brother Bernardo, dream of life away from Cenci's brutality. She asks the priest Orsino, a family friend, to help her seek a marriage through petitioning the Pope. He pretends to agree, but secretly has plans to win her himself by other means. Count Cenci entertains his guests, but horrifies them by drinking a toast to the murder of his two sons in Spain. Beatrice appeals to the guests to rescue the remaining family from their tormented life, but she is abandoned to face her father's revenge - incestuous rape. Beatrice is distraught and cannot name her father's crime. Orsino suggests that Cenci is murdered, and Beatrice supplies the sleeping draught. Two hired assassins throw the Count from a window. Cardinal Camillo arrives as the murder is discovered. One of the assassins is caught with a letter from Orsino revealing the complicity of Beatrice and Lucrezia who, despite protestations, are arrested. In prison the ladies hope for help from Orsino, but he has fled to Rome. Lucrezia is tortured and confesses, and the judges pronounce them guilty, though Cardinal Camillo agrees to seek clemency from the Pope. The following morning he returns with news that the Pope's heart has hardened and their execution is to go ahead. At the foot of the scaffold Bernardo tells Beatrice and Lucrezia that his own plea to the Pope has also failed. The women are executed and a Requiem Mass for their souls is heard. Cardinal Camillo murmurs "We are all enmeshed in one vast web of sin and guilt".
Repertoire Note
Goldschmidt's second opera was one of four prize-winning works in the British Arts Council's 'Festival of Britain' competition in 1949, but it never received the promised performance and had to wait forty years for its concert premiere in London in 1988 and its staged premiere in Magdeburg in 1994. Consciously written in a modern 'bel canto' idiom, Beatrice Cenci is a more opulent and romantic opera than its predecessor and contains some of Goldschmidt's most passionate and eloquent music.
Press Quotes
"Its story is moving, its framework taut and its web of themes individually memorable."
Daily Telegraph
"...disturbing, allusive and pungently beautiful."
Boston Globe
"Goldschmidt's opera music deserves a firm place in the repertoire: written so that the text is truly sung, the music is rich and colourful, stimulating and touching; the singers are helped by its easy vocal lines, and the listener held spellbound by its graphic, illustrative power..."
Westdeutscher Zeitung
Subjects
Recommended Recording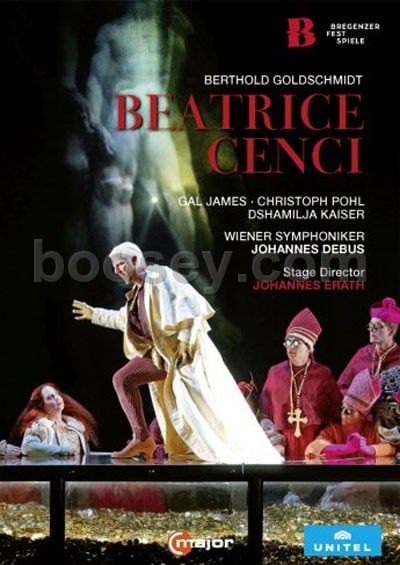 Gal James, Christoph Pohl, Dshamilja Kaiser, Christina Bock / Prager Philharmonischer Chor / Wiener Symphoniker / Johannes Debus, cond. / Johannes Erath, dir. (Bregenzer Festspiele 2018)
C Major / Unitel DVD 751408 / Bluray 751504