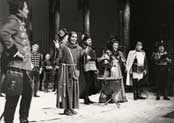 Photo: Volker G Ullbich / Bremen Opera
Maw, Nicholas
The Rising of the Moon
(1967-70)
Opera in three acts
Duration: 145 minutes
Music Text
Libretto by Beverley Cross (E,G)
Scoring
2S,2M,A,hT,2T,hBar,2Bar,BBar,B; men's chorus
3(III=picc).3(III=corA).3(II=bcl,III=Ebcl).2-4.3(III=crt,bugle).2.1-
timp.perc(2):glsp/SD/TD/BD/cyms/susp.cym/tamb/tgl/rattle/whip/
2bongos/cowbell-harp-cel-strings-stage band (taken from orchestra):
version A: picc,2cl,Ebcl,3tpt,3trbn,perc:SD/BD with pedal/hi-hat
version B: 2cl,Ebcl,trbn,tuba,perc:BD with cym
Abbreviations (PDF)
Publisher
Boosey & Hawkes
Territory
This work is available from Boosey & Hawkes for the world.
World Premiere
7/19/1970
Glyndebourne
Anne Howells, Alexander Oliver, John Gibbs, Richard Van Allan, Colin Graham, dir
Conductor: Raymond Leppard
Company: Glyndebourne Festival Opera
Roles
| | |
| --- | --- |
| BROTHER TIMOTHY | High Tenor |
| DONAL O'DOWD | Baritone |
| CATHLEEN SWEENEY | Mezzo-Soprano |
| COLONEL LORD JOWLER | Bass Baritone |
| MAJOR MAX VON ZASTROW | High Baritone |
| CAPTAIN LILLYWHITE | Tenor |
| LADY EUGENIE JOWLER | Soprano |
| FRAU ELIZABETH VON ZASTROW | Mezzo Soprano |
| MISS ATLANTA LILLYWHITE | Soprano |
| CORPORAL OF HORSE HAYWOOD | Baritone |
| CORNET JOHN STEPHEN BEAUMONT | Tenor |
| THE WIDOW SWEENEY | Contralto |
| LYNCH | Bass |
| Officers and Men of the 31st Royal Lancers | male chorus |
Time and Place
An autumn day and night in Ballinvourney in the Plains of Mayo, Ireland, 1875
Synopsis
In the half-derelict monastery of St Brendan the Less, Brother Timothy, the farmer Donal O'Dowd and the innkeeper's daughter Cathleen deplore the arrival of the Thirty-First Royal Lancers. Enter the leading officers – Colonel Lord Jowler, his adjutant Captain Lillywhite and the Prussian observer, Major von Mastrow, who decide to quarter among the ruins. Their ladies arrive – Jowler's wife Eugenie, Mastrow's wife Elizabeth and Lillywhite's daughter Atalanta – and are stationed at the village inn. That evening a new officer turns up – the sensitive and poetic Cornet Beaumont. His fellow officers require proof of his manliness and set him the task of smoking three cigars, drinking three bottles of champagne and seducing three women before dawn. He reluctantly agrees.
In the second act, in the charge of Corporal Haywood, Beaumont is taken to the village inn (which the Irish have led them to believe is in fact a more distant one) where he sets forth on his tasks. He enters Eugenie's room on pretence of protecting her from rebels. As he leaves it, he encounters Elizabeth and finds her even more willing to respond to his charms. Cathleen meanwhile swaps rooms with Atalanta, who thus receives a nocturnal visit from the rapacious Mastrow, who has turned up at the inn seeking the Irish girl and been directed along the corridor. Cathleen herself has taken a fancy to Beaumont, and after he stumbles downstairs following his second assignation she lets him fall asleep in her arms. The following morning the regiment's officers awake to find Beaumont's embarrassing proofs of his seduction of their womenfolk. Their only option is to leave Ballinvourney behind, while Beaumont resigns his commission.
Subjects