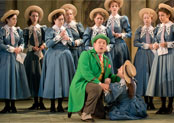 Photo: Mike Hoban
Offenbach - Keck
Vert-Vert (OEK critical edition)
(Kakadu)
(1869)
Opéra-comique in three acts
Duration: 120 minutes
Music Text
Libretto by Henri Meilhac and Charles Nuitter; original German version by Julius Hopp (F,G)
Scoring
4S,MS,4T,3Bar; speaking roles; chorus;
2(II=picc).2.2.2-4.2.3.0-timp.perc(3):SD/TD/BD/cym/tgl/cast/bell(E)-strings
Abbreviations (PDF)
Publisher
Boosey & Hawkes / Bote & Bock
Territory
This work is available from Boosey & Hawkes for the world.
World Premiere
3/10/1869
Opéra-comique, Paris
Company: unknown
World premiere of version
6/15/2002
Marmorsaal, Bad Ems
Conductor: GMD Jean-Pierre Haeck
Company: Solisten, Chor und Ensemble Orchestral de Mosan
Roles
| | |
| --- | --- |
| VALENTIN (Vert-Vert) | Tenor |
| BALADON, dance teacher | Baritone |
| BINET, gardener | Tenor |
| BELLECOUR, singer | Tenor |
| COUNT GASTON D'ARLANGE, dragoon officer | Baritone |
| CHEVALIER DE BERGERAC, dragoon officer | Tenor |
| MAINQUET, theatre director | Baritone |
| FRIQUET, dragoon | speaking role |
| LA CORILLA, singer | Soprano |
| MIMI, boarding girl | Soprano |
| MADEMOISELLE PATURELLE, deputy head | Mezzo-Soprano |
| BATHILDE and EMMA, boarding girls | Sopranos |
| MARIETTE, maid in the inn | speaking role |
| Boarding girls, dragoons, actors and actresses | chorus |
Time and Place
A girl's boarding school and the town of Nevers, 19th century
Synopsis
In the garden of a girls' boarding school we find Mimi, Bathilde and Emma together with Valentin, the nephew of the headmistress Mlle Paturel, plus the gardener Binet. They are all assembled to bury the parrot Vert-Vert, darling and mascot of the school, who has died from constipation. From this moment on, Valentin will bear the nickname Vert-Vert and be spoiled by the pupils, just as the parrot was... Two weeks earlier Bathilde and Emma had secretly married two noble dragoons and, during an excursion to Nevers, Valentin finds the two men in a bar. They are courting the theatre singer Mme Corilla and Valentin, who is a gifted singer, is also taken in by Mme Corilla. She does this all the more willingly as he is prepared to take the part of her ill partner in the opera she is performing. Mimi, who, dressed as a man, has followed Valentin to Nevers, observes in desperation the flirtation during the increasingly hilarious feast. As in 'The Marriage of Figaro', the emotional confusion reaches its turbulent climax in the night-time case of mistaken identity in the third act. A happy ending is guaranteed!
Subjects
Recommended Recording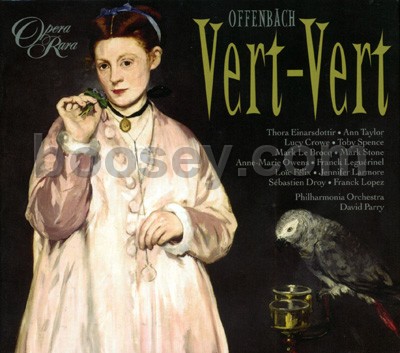 Thora Einarsottir / Ann Taylor / Lucy Crowe / Toby Spence / Mark Le Brocq / Mark Stone / Anne-Marie Owens / Franck Leguerinel / Loic Felix / Jennifer Larmore / Sebastien Droy / Franck Lopez / Geoffrey Mitchell Choir / Philharmonia Orchestra / David Parry
OPERA RARA ORC41 CD
World Premiere Recording