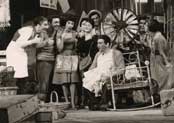 Photo: Haendler-Krah
Barraud, Henry
Opera buffo in three acts
Duration: 120 minutes
Music Text
Libretto by Felicien Marceau after his novel `La Maman d'Enée' (F,E,G)
Scoring
2S,2A,T,4B
1(=picc).1(=corA).1.1-1.1.1.0-timp.perc(3):xyl/vib/wdbl/cyms/tgl/
t.mil/chimes/t.bells/tam-t/BD/SD/whip/gong/typewriter-harp-pft-cel-
strings
Abbreviations (PDF)
Publisher
Boosey & Hawkes
Territory
This work is available from Boosey & Hawkes for the world.
World Premiere
7/20/1961
Théâtre de l'Archeveche, Aix-en-Provence
Jean-Pierre Grenier, director
Conductor: Serge Baudo
Company: Paris Conservatoire Orchestra / Aix-en-Provence Festival
Roles
| | |
| --- | --- |
| GENNARO | Bass |
| NANZIATINA | Contralto |
| MARIA-STELLA | Soprano |
| CARLUCCIO | Bass |
| PEPPINO | Tenor |
| PASQUALINA | Soprano |
| ROSINA | Soprano |
| GEMMA | Contralto |
| COSTANZO | Bass |
| CARMINE | Bass |
Synopsis
The scene is a street in Naples, where two local shopkeepers - Gennaro the vegetable seller and Peppino the scrap-metal merchant - are taking their ease and discussing how good life is. Don Carluccio, a young journalist, enters, and Gennaro lets him have some vegetables, as he respects his calling and his connections to the wealthy and famous. Carluccio is also in love with Gennaro's daughter Maria-Stella, and the two greet each other before he declares his love. A cry from the upstairs balcony meanwhile announces that Nunziatina, Gennaro's wife, has just given birth to their latest child - another girl. All the neighbours congratulate him and try to come up with names, which are rejected one after another. Gennaro himself decides on Lavinia, and to get into his putative father-in-law's good graces Carluccio proposes to announce the birth in his newspaper. Gennaro is thrilled. When the paper is printed it comments that the name Lavinia is that of the wife of Aeneas. Gennaro predicts a great future for the child, one much too good to allow his other daughter to marry a mere journalist. The neighbours, however, are suspicious. Who is this Aeneas? Is he perhaps Nunziatina's lover? Gennaro's elation is turned to anger, and he too joins in the accusation against his wife. She defends herself vigorously. Carluccio arrives to explain, somewhat vaguely, who Aeneas actually was in ancient times, and Gennaro is reassured. The neighbours cannot quite grasp this, however, and pelt the disgraced greengrocer and his wife with their own vegetables. They must move. Carluccio offers to help them, which is only natural in a son-in-law. He and his proposal are both accepted, with the proviso that everything must be kept out of the newspapers.
Subjects