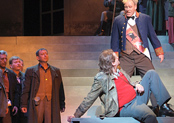 Photo: Peter Awtukowitsch
Schillings, Max von
Der Pfeifertag
(The Pipers' Day)
(1896-99)
Merry opera in three acts
Duration: 120 minutes
Music Text
Libretto by Ferdinand Graf Sporck; new version by the composer (G)
Scoring
2S,lyrS,A,2T,lyrT,2Bar,BBar,2B; chorus;
3(III=picc).3(III=corA).3(III=bcl).3(III=dbn)-4.3.3.1-timp.perc-harp-strings;
On-stage:2cl-2tpt.2trbn.2tenorhn.tuba-TD
Abbreviations (PDF)
Publisher
Boosey & Hawkes / Bote & Bock
Territory
This work is available from Boosey & Hawkes for the world.
World Premiere
11/26/1899
Schwerin
Company: Unknown
Roles
| | |
| --- | --- |
| SCHASMANN VON RAPPOLTSTEIN, supreme king of the pipers | Bass |
| HERZLAND, his daughter | Lyric Soprano |
| RUHMLAND, his son | Baritone |
| VELTEN STACHER, piper of the Rhine | Tenor |
| ALHEIT, Velten's sister, Herzland's friend | High Soprano |
| The pipers's counsel: JOCKEL | Lyric Tenor |
| WEIHDAMPF | Tenor |
| SURGAND | Baritone |
| HENSELIN | Bass |
| JOST and JOERG, boy pipers | Soprano, Alto |
| LODER, barkeeper | Bass Baritone |
| Pipers, Pipers' wives and girls, Festivity guests, Crowd, Labourers, Servants, Coopers, Shopkeepers | |
Time and Place
Rappoltsweiler in Alsace at the end of the 15th century on the day of Mary's birth and the following day
Synopsis


The guild of pipers is protected by the jurisdiction of Schasmann von Rappoltstein, the supreme 'Pipers' King of the Kingdom of Travelling People'. Rappoltstein has a conflict with young musicians who want to get rid of the old customs. Thus he has expelled his own son Ruhmland who, instead of becoming the patron of musicians, has become a musician himself, indeed a very popular singer. And Rappoltstein is at daggers drawn with Velten who is courting his daughter Herzland and who strives with his revolutionary ideas to become the pipers' king. With wit, courage and charm, the young people manage to make Rappoltstein capitulate. And thus eventually not only is a reform of the guild achieved, but also two decent weddings.
Moods
Comic, Poetic, Romantic
Subjects