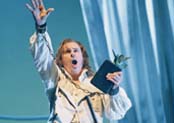 Photo: Bill Cooper
Horne, David
Friend of the People
(1998-99)
Opera in 3 Acts
Duration: 150 minutes
Music Text
Libretto by Robert Maclennan on the life of Thomas Muir (E)
Scoring
2S,A,4T,4Bar,BBar,B,Tr
2(I=picc,II=picc,afl).2(II=corA).2(II=bcl).1.dbn-2.2.2.1-timp.
perc(1):marimba/vib/crot/t.bells/3susp.cym(sm,med,lg)/BD/tam-t/whip/
5tpl.bl/med.anvil-harp-cel-strings
Abbreviations (PDF)
Publisher
Boosey & Hawkes
Territory
This work is available from Boosey & Hawkes for the world.
World Premiere
11/6/1999
Theatre Royal, Glasgow
Christopher Alden, director
Conductor: Richard Farnes
Company: Scottish Opera
Roles
| | |
| --- | --- |
| THOMAS MUIR | Baritone |
| JOHN JAMES | Boy Soprano |
| ROBERT FORSYTH/CAPTAIN FONNEGRA | Tenor |
| JOHN MILLAR JR/FIRST CREWMAN/CAMILLUS | Tenor |
| PROF. MILLAR/SECOND CREWMAN | Bass Baritone |
| COLONEL DALRYMPLE/CAPTAIN DORR | Bass |
| REV. JAMES LAPSLIE/JAMES GRANT/DON PEDRO | Tenor |
| ANNIE FISHER | Mezzo-Soprano |
| ANNA BARBAULD/CERES | Soprano |
| MARGARET MUIR/MARIANNE ('LA FRANCE') | Contralto |
| TALLEYRAND/JURY FOREMAN | Bass Baritone |
| ROBERT DUNDAS/LIEUTENANT PAGE | Baritone |
| LORD BRAXFIELD/CAPTAIN CAMPBELL/COUNT OF SAINT CLARA | Bass |
| CHARLES GREY/CICERO | Tenor |
Time and Place
Paris, London and Glasgow, Late 18th Century
Synopsis
Thomas Muir tells his story to a young boy. Seven years earlier in Glasgow the advocate Muir and his friends commit themselves to parliamentary reform in opposition to Pitt. Muir travels to London to make contact with the Whigs who are forming 'Friends of the People' clubs to promote reform. In the garden of Muir's home his mother entertains the Reverend James Lapslie. Thomas tells them of his success in recruiting members and dances with a young serving maid Annie Fisher, who misinterprets this exuberance for affection.
In Glasgow the Friends of the People meet and a parliamentary petition is called for. Lapslie observes the meeting and pockets a letter calling for assistance from Irish Republicans. Annie declares her love to Muir, but he explains that his driving passion is for political reform. In Edinburgh Lapslie and Annie offer their services to Pitt's henchman Dundas. Muir is outlawed, struck off the Scottish Bar and arrested. Lapslie and Annie bear false witness at his trial and he is sentenced to transportation for 14 years. A remorseful Annie and Muir's mother bid him farewell at Leith docks.
He is deported to Australia, the first of a series of voyages which toss him back and forth across the world as a political refugee. Disfigured by injury and mentally tortured, his journeys finally bring him to France where he is welcomed as a hero and offered citizenship. His tale told, Muir is invited by the French Foreign Minister to attend the Bastille Day fireworks, but he is too frail to move. As his life ebbs away he despairs that his purpose remains unfulfilled but takes solace that the boy may follow his example.
Subjects