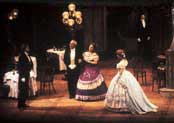 Photo: Guy Gravett
Strauss, Richard
Lyric comedy in three acts
Duration: 150 minutes
Music Text
Libretto by Hugo von Hofmannsthal (G,Cz,E,F,I)
Scoring
Major roles: dramS,lyrS,Bar; minor roles: colS,M/A,2T
small roles: S,Bar,2B,10mimes; chorus
3(III=picc).2.corA.3.bcl.3(III=dbn)-4.3.3.1-timp.sleigh bells-harp-
strings
Abbreviations (PDF)
Publisher
Boosey & Hawkes
Territory
This work is available from Boosey & Hawkes for all countries except Germany, Italy, Portugal, Danzig, and the former territories of the USSR.
World Premiere
7/1/1933
Sächsisches Staatstheater Opernhaus, Dresden
Conductor: Clemens Krauss
Company: Dresden State Opera
Roles
| | |
| --- | --- |
| COUNT WALDNER | Bass |
| ADELAIDE, his wife | Mezzo Soprano |
| ARABELLA, their daughter | Soprano |
| ZDENKA, Arabella's younger sister | Soprano |
| MANDRYKA, a Croatian landowner | Baritone |
| MATTEO, an officer | Tenor |
| COUNT ELEMER | Tenor |
| COUNT DOMINIK | Baritone |
| COUNT LAMORAL | Bass |
| FIAKERMILLI | Soprano |
| FORTUNE-TELLER | Soprano |
| 3 Players | Basses |
| Welko, Djura, Jankel, hotel porter | Spoken roles |
| Arabella's companion, a doctor, groom | Silent roles |
| Cabmen, ball guests, hotel guests, waiters | chorus |
Time and Place
Vienna, 1860
Synopsis
The impoverished Count and Countess Waldner seek a rich suitor for their eldest daughter Arabella, and have disguised their younger daughter Zdenka as a boy to save money. Zdenka is in love with Matteo, one of Arabella's admirers, and has written him letters in her sister's name. Arabella believes she will recognise 'the right man', and is curious about a stranger who has watched her outside the hotel. She agrees to choose a husband by the end of the Coachmen's Ball that evening, and leaves for a sleigh-ride. Beset by creditors, the Count has written to a Croatian landowning friend, enclosing a photo of Arabella. The friend's nephew and heir, Mandryka, announces himself. He is bewitched by Arabella's portrait and has come to Vienna to woo her. The Count accepts Mandryka's suit and a loan for the gambling tables. At the ball, Arabella and Mandryka are attracted to each other – he is the stranger she had noticed. He describes a village custom in which a glass of water is offered by a maid to her betrothed to drink. She agrees to marry him, but begs a few hours to bid farewell to her youth. Arabella is proclaimed Queen of the Ball by Milli, the coachmen's darling, and takes leave from each of her former suitors. Zdenka arranges an assignation with Matteo, luring him with a key to Arabella's room. This is overheard by Mandryka, who notes Arabella's departure and falls into a drunken fury, outraging the Countess with accusations of Arabella's infidelity. The Waldners leave the ball and the Count commands Mandryka to follow. Back at the hotel, Matteo believes he has met with Arabella in her darkened bedroom, but in the foyer she is baffled by his allusions. Mandryka has lost his trust in Arabella, and in the growing confusion challenges Matteo to a fight. Zdenka appears in a nightdress and confesses her love for Matteo. Arabella seeks forgiveness from Mandryka and asks her father to bless the union of Zdenka and Matteo. Mandryka, alone, contemplates his feelings for Arabella and sends a glass of water to her room. She brings it down for him to drink, as a symbol of their love.
Subjects
Recommended Recording