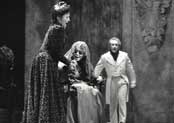 Photo: Phil Schexnyder
Argento, Dominick
Opera in two acts
Duration: 116 minutes
Music Text
Libretto by the composer based on the novella by Henry James (E)
Scoring
Major roles: dramS,2lyrM,lyrT,Bar,B; minor roles: S,B; chorus
2(II=picc).2(II=corA).2(II=bcl).2(II=dbn)-3.2.2.1-timp.perc(2):SD/BD/
tamb/tgl/bell tree/crot/glsp/chimes/large bell/steel plate(or anvil)/
cyms/susp.cym/tam-t/wind chime(bamboo)/maracas-pft(=cel)-harp-strings
Abbreviations (PDF)
Publisher
Boosey & Hawkes
Territory
This work is available from Boosey & Hawkes for the world.
World Premiere
11/19/1988
Music Hall, Dallas, TX
Mark Lamos, dir / Elisabeth Soderstrom, Frederica von Stade, Katherine Ciesinski, Richard Stilwell
Conductor: Nicola Rescigno
Company: Dallas Opera
Roles
| | |
| --- | --- |
| JULIANA BORDEREAU, an opera singer | Soprano |
| ASPERN, a composer | Tenor |
| BARELLI, an impresario | Bass-Baritone |
| SONIA, a singer; Barelli's mistress | Mezzo-Soprano |
| TINA, Juliana's niece | Mezzo-Soprano |
| THE LODGER, a critic and biographer | Baritone |
| PASQUALE, The Lodger's servant and gardener (also Painter) | Bass |
| OLIMPIA (also off-stage voice of Juliana in Prologue I) | Soprano |
| Chorus (offstage) | |
Time and Place
1835 and 1895; a villa on the shores of Lake Como, Italy
Synopsis
Juliana Bordereau, a former prima donna and mistress of the composer Aspern, is living with her spinster niece Tina in a villa on the edge of Lake Como. A stranger appears, requesting that the women rent him a room. The lodger is a scholar and biographer of Aspern, and believes that Juliana may possess the score of an operatic masterpiece—believed lost—that Aspern wrote for her shortly before his death sixty years earlier. The action alternates between two time periods: 1895, when the lodger is attempting to discover whether a score of Aspern's opera Medea exists, and 1835, where we see the young Juliana and Aspern, learn about a relationship between Aspern and a soprano, Sonia, and learn more about the opera Medea. Juliana dies, and Tina suggests that the stranger may have the score if he will marry her. He rejects her offer and plans to leave the next day. In the morning, he tells Tina that he has changed his mind and must have the score. She tells him it is too late, and he departs. Later, alone in her music room, Tina drops the score of the opera—page by page—into a blazing fire.
Press Quotes
"The Aspern Papers is…beautiful. It opens with a gentle shimmer, like light on water, that swells to an aching lushness."
— Washington Post

"extraordinarily beautiful…"
— Dallas Morning News
Composer Notes
In the final quarter of the nineteenth century, there lived in Florence a very elderly woman who was said to possess a cache of valuable manuscripts, relics of a romantic liaison sixty years before with the poet Shelley. A gentleman—an ardent admirer of the poet—coveting these priceless papers acquired lodgings in her house. He hoped to obtain them by any means possible, even—if necessary—waiting for the old lady to die.

That, in essence, was the anecdote told to Henry James and upon which he fashioned The Aspern Papers. He changed the locale from Florence to Venice; he transformed the historical Shelley into the fictitious Aspern; he introduced a few new characters; and he borrowed a detail from another anecdote told of one of Shelley's contemporaries, Lord Byron, in which that poet's surviving mistress threatened to burn his papers rather than allow them to be published after her death. From these sources and modifications James produces the novella many regard as his most brilliant short work of fiction.

In adapting the novella for the lyric stage, I have tried to remain as faithful as possible to James's masterpiece, but for reasons which cannot be adequately explained in this short introduction, I too have felt the need to make certain modifications: the locale has been shifted from a palazzo in Venice to a villa on Lake Como; Aspern, a poet, has been transformed into a composer (modeled after Bellini, himself a somewhat Shelley-esque artist); a few new characters have been introduced; and some anecdotal details of the bel canto era have been borrowed.

James tells his story in a half-dozen or so separate episodes spread out over the course of
a single summer ( I chose to make it the year 1895). Between these episodes a period of time
passes, ranging from a day to six weeks. It would have been possible in a dramatization merely to lower the curtain to indicate these passages of time, and then raise it on the next scene (as, Sir Michael Redgrave does in his 1959 stage version). I opted, however, to take advantage of these pauses in the principal action to show what occurred sixty years earlier; this is the most thorough-going departure from James. Consequently, the libretto proceeds with scenes from the summer of 1895 (the lodger's arrival, his efforts to obtain the papers, the outcome of those efforts) alternating with scenes from the summer of 1835 (the old lady's memories of the long-ago love affair with Aspern, his infidelity and tragic early death, her reasons for withholding his papers from the world). These are episodes James sketchily alludes to in passing, although they are intentionally left indistinct.

At one point in the novella, the narrator, despairing because his opportunities to see the old lady are so infrequent, wonders "what mystic rites of ennui she celebrates in her darkened rooms." I have chosen to believe that these "mystic rites" are the exercise of memory, re-living sixty-year-old joys and sorrows while she blindly fondles Aspern's papers.

— Dominick Argento
Subjects