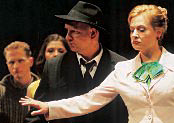 Photo: Milena Holler
Schwertsik, Kurt
Opera in one act
Duration: 90 minutes
Music Text
Libretto adapted by the composer from the film and play by Rainer Werner Fassbinder (G)
Scoring
2S,2M,A,T,3Bar,B
2(II=picc).2.0.bcl.asax.2(II=dbn)-1.0.2flugelhn.2.1-timp.perc:SD/BD/cyms/t.bells/tom-t/thundersheet/
whip/guiro/flexatone/lge wooden hammer-accordion-strings
Abbreviations (PDF)
Publisher
Boosey & Hawkes
Territory
This work is available from Boosey & Hawkes for the world.
World Premiere
6/1/2003
Wuppertaler Opernhaus, Wuppertal
Conductor: Martin Braun
Company: Gerd Leo Kuck, director
Roles
| | |
| --- | --- |
| Helga | Mezzo Soprano |
| Gunda | Contralto |
| Elisabeth | Soprano |
| Marie | Soprano |
| Ingrid | Mezzo Soprano |
| Paul | Baritone |
| Jorgos | Bass |
| Bruno | Baritone |
| Erich | Baritone |
| Franz | Tenor |
Time and Place
Germany, the 1960s
Synopsis
A group of youths live on the margins of society. Erich is together with Marie, and Paul with Helga. They are joined by the Greek immigrant worker Jorgos who will be working for the business owner Elisabeth Plattner. Gunda tries to seduce Jorgos, but he rejects her. There is a rumour that Elisabeth has a sexual relationship with Jorgos. Gunda claims Jorgos almost raped her but Marie, who likes Jorgos, does not believe it. Elisabeth confronts Bruno, one of her employees, about the rumours of her affair with Jorgos, but Bruno denies everything. Erich takes the relationship between Marie and Jorgos calmly: at any rate, Greece is full of communists! Marie learns that Jorgos has a wife in Greece and two children, but she doesn't mind this. Franz, Paul and Erich goad each other into a fury against Jorgos and Helga spreads the rumour that Jorgos assaulted Erich. They all agree: "The immigrant worker has to go!" When Elisabeth takes Jorgos to Mass this is greeted with general disapproval. Elisabeth explains to Bruno that she has not had any affair with Jorgos. Marie warns Jorgos about the threatening danger, while Erich arms himself with a knuckleduster and a leather jacket. Elisabeth tries to seduce Jorgos. Paul has tried to provoke a miscarriage of his and Helga's baby by pushing her into the water, but the attempt has failed and they now want to get married. Marie rejects Erich, and the men beat Jorgos up. Elisabeth continues to employ Jorgos because she does not have to pay him as much as a German employee. "This is for Germany" everybody agrees. Elisabeth threatens Bruno with dismissal if he assaults another colleague. Erich will soon join the German army. Another foreign worker, a Turk, is to start at the company, but Jorgos refuses to work with a Turk. Marie dreams of Greece as Jorgos has promised to take her there. And his wife? "In Greece, everything is different …"
Subjects