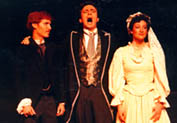 Photo: Courtesy University of Northern Colorado
Moore, Douglas Stuart
The Devil and Daniel Webster
(1939)
Folk opera in one act
Duration: 65 minutes
Music Text
Libretto by Stephen Vincent Benet (E)
Scoring
M,3T,3Bar,2B,3speakers; chorus
2(II=picc).2(II=corA).2(II=bcl).2(II=dbn)-2.2.1.0-timp.perc-harp-strings
Reduced scoring: 1.1.1.1-1.1.1.0-perc(1):timp/SD/sandpaper/cym/gong/chimes(offstage)/
tam-t-pft-strings
Abbreviations (PDF)
Publisher
Boosey & Hawkes
Territory
This work is available from Boosey & Hawkes for the world.
World Premiere
5/18/1939
New York, NY
John Houseman, director
Conductor: Fritz Reiner
Company: American Lyric Theatre
Roles
| | |
| --- | --- |
| JABEZ STONE, a New Hampshire farmer | Bass |
| MARY STONE, Jabez's wife | Mezzo-Soprano |
| DANIEL WEBSTER, Secretary of State | Baritone |
| A FIDDLER | speaking role |
| MR. SCRATCH, a Boston lawyer | Tenor |
| JUSTICE HATHORNE | speaking part |
| CLERK | Baritone |
| VOICE OF MISER STEVENS | Tenor |
| WALTER BUTLER | speaking part |
| BLACKBEARD TEACH | Baritone |
| KING PHILIP, a juror | Bass |
| SIMON GIRTY, a juror | Tenor |
| Other Jurymen | non-speaking roles |
| Men and Women of Cross Corners, New Hampshire | chorus |
Time and Place
1840s, Cross Corners, New Hampshire
Synopsis
Set in New Hampshire in the 1840s, the community of Cross Corners is celebrating the marriage of Jabez and Mary Stone. Jabez has recently become extremely successful.  In fact, there is some talk of his being nominated to run for governor. The celebration is a huge success, especially since the famous New Englander, Daniel Webster, appears as a guest at the party. There is another guest in attendance - a Boston lawyer named Scratch - who carries a black box under his arm. Jabez is terrified when he sees him. When a lost soul, in the form of a moth, flies out of the box, the crowd realizes that Jabez has sold his soul to the Devil, and they flee in a panic. Webster is asked to help save Jabez, and he immediately demands a trial for his client. Scratch, an excellent lawyer himself, fills the jury with infamous American traitors and renegades, including the hanging judge from the Salem witch trials. This jury of damned souls leaves Webster little hope of winning the case. However, in a blaze of oratory genius, Webster turns the tables on Scratch. Webster wins the case, and the crowd drives the Devil out of New Hampshire.
Subjects
Recommended Recording
Joyce Guyer, Brian Steele, Lyric Opera of Kansas, Russell Patterson
Newport Classics NPD 85585