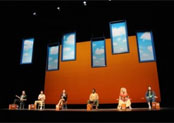 Photo: courtesy of David T. Little
Little, David T
Vinkensport, or The Finch Opera
(chamber version)
(2018)
chamber opera
Duration: 40 minutes
Music Text
Libretto by Royce Vavrek (E)
Scoring
3S,T,2Bar
1(=picc,afl).0.1(=bcl).0-0.0.0.0-pft-strings(1.1.1.1.1)
This work is also available for full orchestra. Please follow this link for more information.
Abbreviations (PDF)
Publisher
Boosey & Hawkes (Hendon Music)
World premiere of version
6/30/2018
The Spa Little Theater, Saratoga Springs, NY
Michael Mori, director
Conductor: David Alan Miller
Company: Opera Saratoga
Roles
| | |
| --- | --- |
| Farinelli's Trainer | Soprano |
| Sir Elton John's Trainer | Soprano |
| Holy St. Francis's Trainer | Soprano |
| Hans Sachs's Trainer | Tenor |
| Prince Gabriel III of Belgium's Trainer's Son | Baritone |
| Atticus Finch's Trainer | Bass-Baritone |
Synopsis
A motley assortment of contestants participate in their annual finch-sitting competition, a Belgian folk competition that pits chaffinches (and their owners) against each other in a battle to see who has the most melodious bird. The contest is run as such: a man waves a flag and each of the competitors sits in front of a box containing one of their fellow contestants' birds. Every time a bird makes a proper call (a suck-e-wiet, as it's called in these circles) they receive a tally mark. The bird with the most points wins, bringing much pride to its trainer. Although a seemingly simple and gentle competition, access to the competitor's inner monologues and flashbacks to their preparations reveal deception, deep-seated rivalries, painful loneliness, and blossoming romance.
Composer Notes
A motley assortment of contestants participate in their annual finch-sitting competition, a Belgian folk competition that pits chaffinches (and their owners) against each other in a battle to see who has the most melodious bird. A flag waves, and the game begins. Each competitor—sitting in front of a box containing a fellow contestants' birds—makes a tally mark on a stick then the bird sings a certain call: the "susk-e-wiet." At the end of an hour, the bird with the most points wins, bringing much pride to its trainer. Although a seemingly simple and gentle competition, access to both the competitors' inner monologues, and flashbacks to their preparations, reveal deception, deep-seated rivalries, painful loneliness, and blossoming romance
Subjects