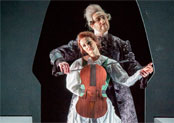 Photo: Rupert Larl
Biber - Brüning
Himmelsgeigen und Höllenfeuer
(Heavenly violins and infernal flames)
()
A Baroque opera-pasticcio for the young and the old
Duration: 120 minutes
Music Text
Libretto by Paula Fünfeck (G)
Scoring
2S,M,CT,Bar,3B; speaking role; mixed chorus; children's chorus; mimes; dancers;
3rec.2ob.bn-2tpt.3trbn-timp-perc(1):drums/bells/xyl-hpd-strings (if possbile, the recorders should be played by children)
Abbreviations (PDF)
Publisher
Boosey & Hawkes / Bote & Bock
Territory
This work is available from Boosey & Hawkes for the world.
World Premiere
6/4/2016
Tiroler Landestheater, Großes Haus, Innsbruck
Paula Fünfeck, director
Conductor: Anna-Sophie Brüning
Company: Tiroler Landestheater
Roles
| | |
| --- | --- |
| Amor / Jakob as a boy / Child | Soprano (a child if possible) |
| Jakob Stainer, violin maker | Baritone |
| Margareta, the choirmaster's fiancée, later on Jakob's wife / A fir tree | Soprano |
| Veith Schnauz aka Flatus Lenz, choirmaster | Bass |
| Franz von Klatten, a rat | Counter-Tenor / falsetto (= role of the Choirmaster) |
| Master Vendone, Venetian master violin maker | Bass (double role for Faith or Choirmaster) |
| Faith / Heinrich Ignaz Franz Biber, virtuoso violinist and prospective opera composer | Bass |
| Hope / Valentina, Vendone's love-crazed daughter | Mezzo-Soprano |
| Choir boys, Venetian child beggars, Jakob's children, Rat's children | Children's chorus |
| Christening party, brawling and boozing party, petty bourgeois party, pleasure and paradise party | Chorus |
| Death / The night guard | Speaking role |
| Two soldiers as well as a man and a woman | Extras, dancers |
Synopsis
Ongoing war puts the god Amor out of work: there is nobody to aim his love arrows at. Instead, Death plays his violin so the soldiers can dance to the music for one last time. When Amor encounters him by chance, he steals his violin; however, he forgets to take his own bow-and-arrow with him, which proves much more useful to Death than the musical instrument had been.

The choir boys, including Jakob, are waiting in the palace chapel of Innsbruck for the christening of the little prince, Ferdinand Karl of Austria. Jakob deliberately puts the choirmaster's violin out of tune. When the choirmaster, clueless of what has been going on, is told by Jakob during rehearsal that his instrument is out of tune, he forces Jakob to audition in front of the whole party. For Jakob, this is child's play: he easily tunes the violin and completes his task brilliantly. By accident, the little prince falls into the baptismal font, which causes some excitement among the celebrants. After the christening, they all happily leave the church – except for the cursing choirmaster, whose frock Jakob has nailed to a pew during the general stir…

Jakob tries his luck as a violin maker but fails to produce good instruments – until he gets a visit from his neighbour, Margareta. Not only is Jakob struck by Amor's arrow instantly, but Margareta also serves as a perfect model for his violin. Unfortunately, Margareta is already betrothed to the choirmaster. She does not care in the least, leaves the choirmaster and escapes to Jakob, who pours a bucket of water over the jealous choirmaster standing outside his window. The two are now sworn enemies.

The army is recruiting new soldiers. The choirmaster calls the attention of the recruiting commander to Jakob. Margareta, who has become pregnant by Jakob, helps him to escape. Jakob sets off to Venice where he hopes to find excellent violin makers instead of raging war. One of them is Master Vendone. He agrees to take Jakob as his apprentice on one condition: being unable to pay for the apprenticeship, Jakob is to marry Vendone's daughter Valentina on her return from her journey. Jakob is haunted by nightmares in which Margareta appears to him, reproaching him in sore disappointment. He narrowly escapes from the returning, love-crazed Valentina and leaves for good.

A long time has passed. Margareta and Jakob have several children, but war is still raging. Faith and Hope are losing confidence. Margareta and Jakob eagerly await the arrival of virtuoso violinist Biber, who wants to buy Jakob's instruments. Jakob candidly expresses his illicit Protestant beliefs to Biber, who turns out to be of the same mind. The choirmaster, however, has overheard the pair's conversations and summons together a mob, accusing Jakob of heresy. In fact, a copy of the banned Luther Bible is found in his house. As a punishment, his violins are to be burned, but Bibler has already secreted them off to a safe place. Jakob is thrown in jail and gradually enters a state of confusion. He is threatened by Death, who recognizes him to be Amor, the violin thief. Jakob rejects Death's offer to join forces. Faith, Love and Hope sing the praises of Jakob, whose violins have brought beauty into the world of the Thirty Years' War.
Subjects